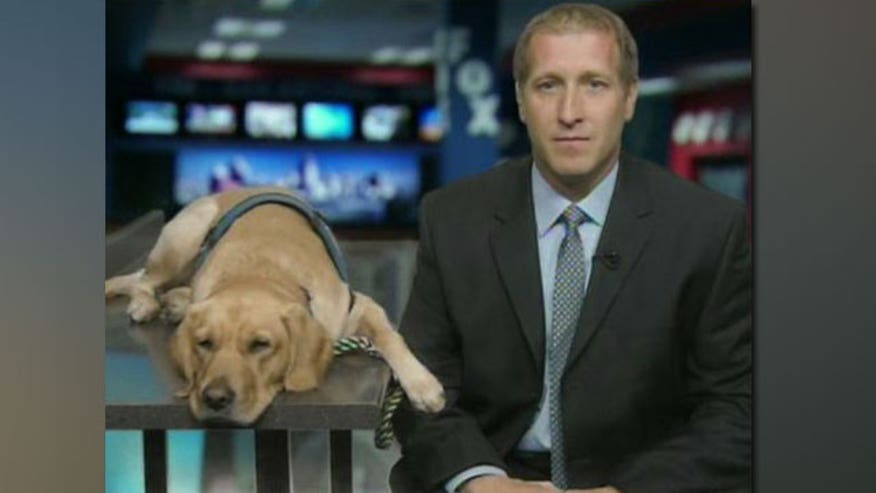 A disabled U.S. Army veteran says he was told he could not enter a Texas Starbucks because of his service dog.
Yancy Baer traveled to Houston from San Antonio on behalf of the national organization Canine Companions for Independence, which helped pair Baer with service dog Verbena after Baer's left leg was amputated from the knee down due to bone cancer, KHOU reported.
The cancer was discovered after a non-combat injury Baer suffered while serving in Iraq in 2009.
Baer got Verbena about 14 weeks ago, and traveled to San Antonio to share his story on behalf of the nonprofit Canine Companions.
He tried to go into a Starbucks on Memorial Drive when he was stopped by a store employee.
"A gentleman from Starbucks meets me at the door and says I can't have her [Verbena] in the store," Baer told KHOU.
Baer said he explained that Verbena is his physical service dog.
"He stated, 'you're not blind'," recalled Baer. "It was in your face, loud and bold. I got really nervous. I was shaking because I was being confronted."
According to Baer, the employee continued to confront him in front of a store full of customers.
"I explained what all she does, and his next comment was, 'Why can't you do that yourself,'" said Baer.
Baer said he was able to speak with another employee, who took the time to listen to him. The first employee who stopped him at the door later apologized, according to the station.
Baer told KHOU that he holds no hard feelings toward Starbucks, and hopes others learn that a person with a service dog doesn't always have a disability that is immediately apparent. In Baer's case, he was wearing long pants, so it was not clear he is an amputee.
Starbucks corporate spokeswoman Laurel Harper released the following statement to KHOU:
"Starbucks always welcomes service animals to our stores, and this customer's experience is not consistent with the welcoming and friendly environment we strive to create for everyone. We have spoken with this customer to apologize for his experience, and we hope to have the opportunity to serve him again. We have also spoken with our store partner about this situation and used this as a coaching opportunity for the future."
Click for the story from KHOU.