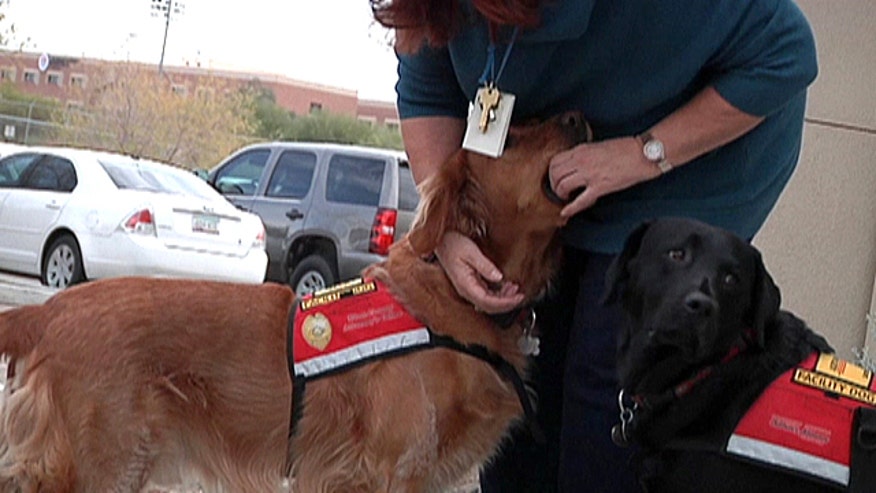 One year after initiating its Courthouse Dogs program, children advocates in Tucson, Ariz., say these specially trained dogs have already benefited young victims of violent crimes.
The program, which is used in other jurisdictions across the U.S., pairs specially trained dogs with young crime victims during trial proceedings. These dogs, which cost about $20,000 each, are believed to ease the stresses and anxiety during interviews and trial testimonies.
"The other day we had a young man who was very afraid to get a blood test, and he wanted Russell with him. So he held on to Russell and stroked his ears," Kathy Rau, a worker for the Southern Arizona Children's Advocacy Group, said.
Russell is a golden lab who was specifically trained to work with these victims. He was recently teamed up with a 15-year-old girl who was sexually abused by her stepfather and was prone to outburst. When she was introduced to Russell, the outbursts stopped.
"These children have been misled and lied to sometimes their whole lives by adults," Rau said.
The Pima County Attorney's office and the Southern Arizona Children's Advocacy Group introduced the Courthouse Dogs program in 2012.
Today, there are 41 courthouse dogs working in 19 states and several more being considered, but some challenges are working their way through the courts, driven by attorneys who claim the dogs are distractions or sympathy magnets. All lower courts have upheld the use of dogs.
Pima County's program has inspired other counties around Arizona to introduce their own courthouse dogs.
Aalia Shaheed is part of the Junior Reporter program at Fox News. Get more information on the program here and follow them on Twitter: @FNCJrReporters