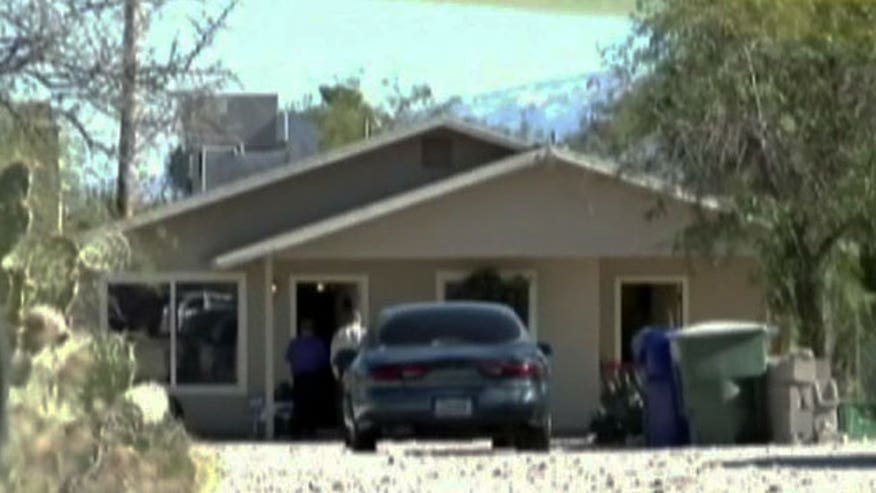 Three teenage sisters have been rescued from an Arizona home after being held captive for two years, police say.
The mother of the three children, who were allegedly imprisoned in filthy conditions in the home, lied about the family's whereabouts and wouldn't let an aunt speak with her nieces on the phone, the aunt said during an interview Wednesday.
Chame Bueno told The Associated Press that the 32-year-old mother said that the family was living in San Diego when they actually were in Tucson.
Bueno, 34, said the stepfather was mentally abusive toward his wife.
"She always talked him up, `Oh well he pays for all my kids' clothes and he takes them here and he takes them to eat and do this' -- and all that time being locked up in a room," said Bueno, of Tucson. "And he hasn't done nothing she said. She has just been lying."
Tucson police said the girls are sisters -- ages 12, 13 and 17 -- and their mother and stepfather were arrested Tuesday.
A judge on Wednesday set bail of $100,000 for the stepfather and $75,000 for their mother as they made initial court appearances. They face multiple counts of kidnapping and child abuse and the man also faces one count of sexual abuse.
The brief court appearances made by video did not include entering pleas, and it's not immediately clear whether the 34-year-old man and 32-year-old woman have attorneys. The Associated Press is not naming the couple to avoid identifying the children.
Tucson Police Capt. Michael Gillooly said Tuesday at a news conference that all three girls were malnourished and dirty, and they told officers they hadn't taken a bath in up to six months.
"They were kept in filthy living conditions," said Gillooly, adding that the two youngest girls were kept in a separate bedroom from their 17-year-old sister.
The girls also told authorities that they were fed only once daily and had been imprisoned in their bedrooms for at least the past several months and possibly up to two years.
Police went to a home on reports of a domestic violence incident about 4 a.m. Tuesday, according to Gillooly.
The two youngest girls told officers that they ran to a neighbor's home after their stepfather kicked in the door and threatened them with a knife. The unidentified neighbor called 911.
When officers went into the house, Gillooly said they found the oldest girl in another bedroom.
Gillooly declined to answer any questions about the case. More information was expected to be released Wednesday.
A resident who has lived in the neighborhood for about five years told the Arizona Daily Star that she didn't know anyone was living in the home, which is set back from the street.
The woman said there was no visible activity at the house, but other neighbors had told her that they had heard what sounded like children playing inside the house at night.
The Star reported that police removed plastic bags containing evidence from the home and what appeared to be a computer.
Police say the girls were imprisoned by a variety of means. The house had an extensive alarm system, including interior doors, Tucson Police Department Chief Roberto Villasenor said, according to TucsonNewsNow.com.
There was a "barrage of static noise and music" piped into the rooms, which were soundproofed so well that the police couldn't hear it until they were just outside the rooms, he said.
Click for more from TucsonNewsNow.com.
The Associated Press contributed to this report.