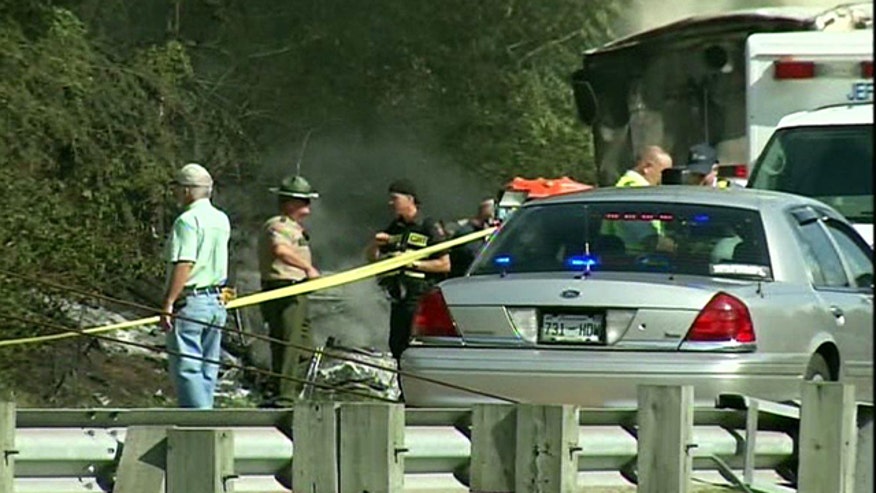 A church bus overturned Wednesday after it blew a tire and crossed the median on a Tennessee interstate, crashing into a tractor-trailer and an SUV and killing at least 8, authorities said
Spokeswoman Dalya Qualls said in an email the bus was traveling in northeast Tennessee when it crossed the median and struck the other two vehicles. The tractor-trailer caught fire and the bus overturned.
Qualls said 18 people were on the bus and six of them were killed. One person among the three in the SUV was killed and the tractor-trailer driver also died.
Fourteen other people were injured and all but two of them had been taken to hospitals. According to WBIR.com, four were transported by air to hospitals and eight were transported by ground to hospitals.
UT Medical Center said Wednesday night that two of the injured were in critical condition, seven were in serious condition, and five were in stable condition. The final two patients arrived by personal vehicle.
The bus was carrying members of the Front Street Baptist Church in Statesville, N.C., about 140 miles east of the crash site.
Dionne Stutts, wife of Front Street Baptist senior pastor Tim Stutts, said the bus was carrying a senior adult group who was on the way home from a trip to Gatlinburg, T.N. She said her husband and another pastor from the church were en route to the wreck.
"They had been there and they were on their way home today," she said. "We are devastated and just ask for the people to be praying."
The accident has shut down Interstate 40 in Jefferson County. None of the victims were identified.
At the church, Jerry Wright said his 73-year-old brother, John, and his wife were on the bus, and he thinks his brother may have been driving the church bus because he had done so in the past.
"If he was driving, it's going to be bad," said Jerry Wright, 71. "I've been trying to ring them. I've been calling their phone, but it keeps ringing and ringing and ringing."
Brady Johnson, superintendent of the Iredell County-Statesville City Schools, said a lot of people who work for the school system are church members. Johnson said he knew people on the bus and they were awaiting word on the conditions.
Johnson said the church had adopted N.B. Mills Elementary School, providing volunteers and school supplies for needy children.
Now, the school system is offering a high school auditorium as a site for a memorial.
"It hits the community as a whole when tragedy strikes. The whole community comes together," he said.
The Associated Press contributed to this report.