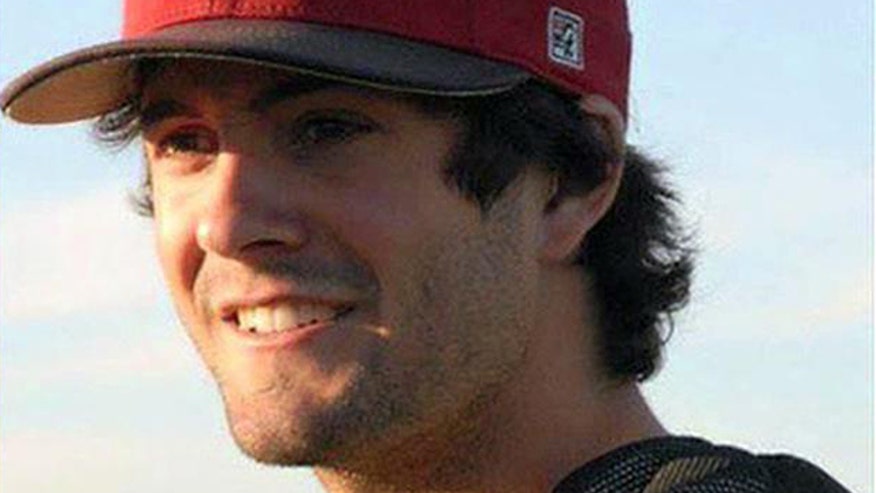 A witness' 911 call following the fatal shooting of an Australian student attending school in Oklahoma was released by authorities Wednesday, one day after police say the suspects killed the student athlete for "the fun of it."
The caller, Joyce Smith, was in her car Friday afternoon when she saw Chris Lane stagger across the street in the town of Duncan, which is about 30 miles southwest of Oklahoma City. Lane collapsed on the side of the road with his back bloodied, she said. She called 911 and told the operator that Lane was unconscious.
[pullquote]
Smith said he was gasping for air and making a 'huh, huh, huh' sound. One person told Smith the man had been shot.
About five minutes into the call, Smith said, "I hear no sirens. I see no lights. Oh my gosh, how long is it gonna be?"
At that point, a woman was performing CPR on Lane, an Australian national who played baseball for East Central University. KOCO reported that seven minutes into the call, Smith told the dispatcher that Lane had stopped breathing. He was pronounced dead an hour later at Duncan Regional Hospital.
Officials say Lane, 22, had just visited his girlfriend.
Police Chief Dan Ford said Lane appeared to have been chosen at random, saying in a variety of media interviews since Friday's killing that one suspect told officers that he and other boys were bored and that they followed Lane and killed him for "the fun of it."
Prosecutors on Tuesday afternoon charged two teens, 16-year-old Chancey Allen Luna and 15-year-old James Francis Edwards Jr., as adults with first-degree murder. Both are being held without bond.
Bond was set at $1 million for 17-year-old Michael Jones, who allegedly drove the vehicle carrying the other suspects. He was charged with the use of a vehicle in the discharge of a weapon and accessory to murder after the fact. Jones is considered a youthful offender but will be tried in adult court.
Prosecutor Jason Hicks called the boys "thugs" in court, saying Luna was sitting in the rear seat of a car when he pulled the trigger on a .22 caliber revolver and shot Lane once in the back. Hicks said Jones was driving the vehicle and Edwards was in the passenger seat.
Edwards has had run-ins with the law previously and had been in court Friday, the day of the killing, to sign documents related to his juvenile probation.
Josh Earnest, a White House spokesman, was asked about the allegations at a press conference Wednesday and said, "This sounds like a pretty tragic case." He went on to say he does not want to get ahead of the legal process.
Rev. Jesse Jackson said in a tweet Wednesday that the "senseless violence" behind Lane's murder "is frowned upon and the justice system must prevail."
Peter Lane, meanwhile, told Australian media there was no explanation for his son's death.
"It is heartless and to try to understand it is a short way to insanity," he said.