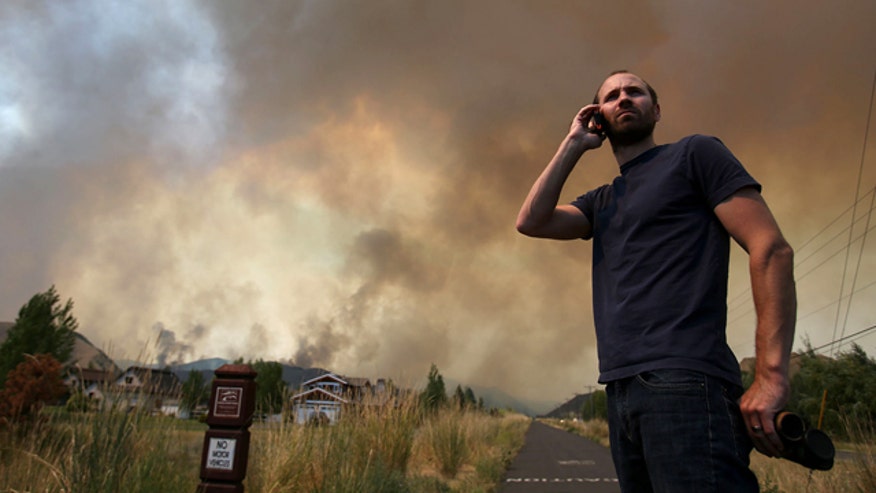 Fire managers battling an enormous wildfire that has scorched nearly 160 square miles and forced the evacuation of 2,300 homes near the central Idaho resort communities of Ketchum and Sun Valley expressed optimism Sunday as additional crews arrived to help fight the blaze.
Officials said the fire had grown only about 12 square miles because of cloud cover the day before and the arrival of additional crews and equipment. Many firefighters worked Sunday to create protective firebreaks.
More than 1,200 people and 19 aircraft are now battling the lightning-caused Beaver Creek Fire, which started Aug. 7 and is 9 percent contained.
Nearly 90 fire engines also are in the region, many protecting homes in the affluent area where celebrities like Arnold Schwarzenegger, Tom Hanks and Bruce Willis own pricey getaways.
"Today they're very optimistic that we will reinforce those lines in case the fire does flare up as we saw on Thursday and Friday," fire spokeswoman Shawna Hartman said Sunday.
Hartman said retardant was being dropped on the flank of Bald Mountain — the Sun Valley Resort's primary ski hill — to reinforce a fire line. That meant the famed ski mountain known as "Baldy" and often used in publicity photos would have a red line of retardant visible from Ketchum.
Hartman said the drop was part of a plan by fire managers to bolster protection for the tony resort town, but he noted the fire had not yet spread to the mountain.
The number of homes evacuated by the fire remained at 2,300 by Sunday evening. Another 7,700 in the area are under pre-evacuation, KTVB reports, as authorities are urging homeowners to start packing up their belongings if they are forced to leave. About 2,700 people live in Ketchum and 1,400 in Sun Valley.
Blaine County spokeswoman Bronwyn Nickel said Idaho National Guard soldiers were manning checkpoints at evacuated neighborhoods and helping relieve local law enforcement officers. The Blaine County sheriff's office was warning evacuated residents not to return until notified it was safe to do so.
No structures have been destroyed since a house and outbuildings burned Thursday, officials said. On the fire line, a few minor injuries were reported.
Meanwhile, crews continued battling other wildfires across the West, including a group of fires near the Oregon city of The Dalles, on the Columbia River.
Those fires were threatening about 70 homes Sunday, and some residents in the area were told to be ready to evacuate. The state fire marshal's office said there was fire about a mile and a half from some structures.
Three wildfires were burning in the area, with the largest covering about 700 acres in The Dalles watershed. The lightning-caused fires were detected Friday. About 200 people were assigned to help combat them.
In Utah, the last evacuation orders were scheduled to be lifted Monday after a series of mountain fires burned more than a dozen homes last week.
More than 100 residents who were forced to leave Rockport Estates and Rockport Ranches, about 45 miles east of Salt Lake City, will be allowed to return in the morning, officials said.
Among them are family members of a couple who got married over the weekend in a backup ceremony at a century-old church after they had to flee their original venue with the bride's wedding dress.
Tawni Sprouce and Travis Mann planned to exchange their vows at her parents' home overlooking Rockport Reservoir. But the residence was among the scores evacuated after the lightning-sparked Rockport fire burned nearly 2,000 acres.
First, the couple moved the wedding to a campsite at Rockport State Park near the community of Waneship. But rain then pushed the ceremony inside the park's Old Church.
Mann said that given the circumstances, the couple welcomed the moisture. He said Saturday's ceremony eventually went off without a hitch.
Fire officials said Sunday the Rockport fire was 70 percent contained.
Utah's biggest blaze, the Patch Springs Fire, was estimated at 50 square miles and 25 percent contained Sunday.
Evacuation orders have been lifted for that fire, which burned 10 homes near Willow Springs on Friday. But a portion of State Highway 199 remained closed.
The Associated Press contributed to this report.