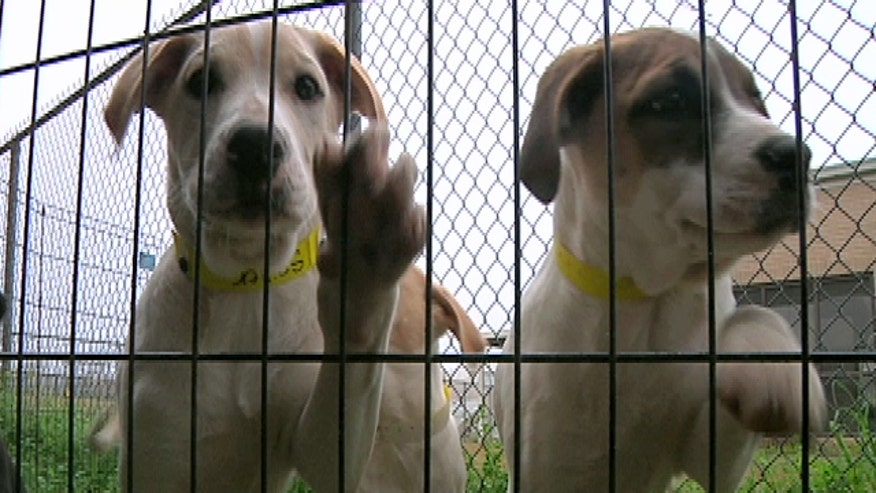 A lot of kids are hoping to find a new puppy under the tree this year, and a lot of puppies in shelters are hoping to end up under the tree in a new home.
Thanks to a group of veterinary medicine students at Mississippi State University, those wishes will come true for some lucky kids and dogs separated by more than a thousand miles.
"It's very rewarding to know that these puppies that started with absolutely nothing and had no chance for a home will find a home through the Homeward Bound program," volunteer Annette Barnhart tells FoxNews.com.
The Homeward Bound Project of Mississippi helps save dogs from spending their entire lives in overcrowded shelters -- or potentially being euthanized when shelters run out of room -- by transporting them to some of the many near-empty shelters in the Northeast.
"The shelters in Mississippi and the Southeast in general are almost all the time at capacity," explains Terri Snead, director of the Homeward Bound Project. "Versus the shelters we transport to in the Northeast, normally they have waiting lists for people that want to adopt a puppy."
Demand is so high in the Northeast for adoptable puppies that at a recent adoption drive in Rochester, N.Y., Snead says families were lining up at 4 a.m. in rainy weather for the 10 a.m. event.
"Some of the cuter puppies will get 20 to 30 applications for one puppy. ... And you look at the difference down here to where there's one adopter looking at 20 to 30 puppies," Snead says.
Liz Templeton of Rochester surprised her two children with an early Christmas present this year -- their new puppy from Mississippi, a 1 1/2-year-old German shepherd mix named Peyton.
"I mean, there isn't much that's better, there really isn't anything that's better than this," Templeton's smiling 12-year old son Matty said.
"It's so nice that it's kind of a Christmas present for both of us, that she gets to have a home and that we get to give her a home," 10-year-old daughter Charlotte added.
Throughout the year, volunteers make the 12-hour drive up to Virginia with a trailer full of puppies about every six weeks. Shelter employees from Connecticut, New Hampshire and New York meet them there to pick up the dogs that they've requested and that many families are anxiously waiting for.
"It is so rewarding to see one of our puppies in their new home. People love them so much. And to know that these guys had no chance, and now they have fantastic homes," Barnhart said.
The Homeward Bound Program has saved more than 3,000 dogs since it started in 2007. And now its volunteers are trying to raise funds to buy a bigger trailer that will allow them to transport and save even more dogs on each trip in the future.
For more information on the Homeward Bound Project of Mississippi or to find out what you can do to help, visit their website at www.homewardboundofms.org.
Garrett Tenney is a correspondent for Fox News Channel (FNC). He joined FNC in April 2013 and is based in the DC bureau.