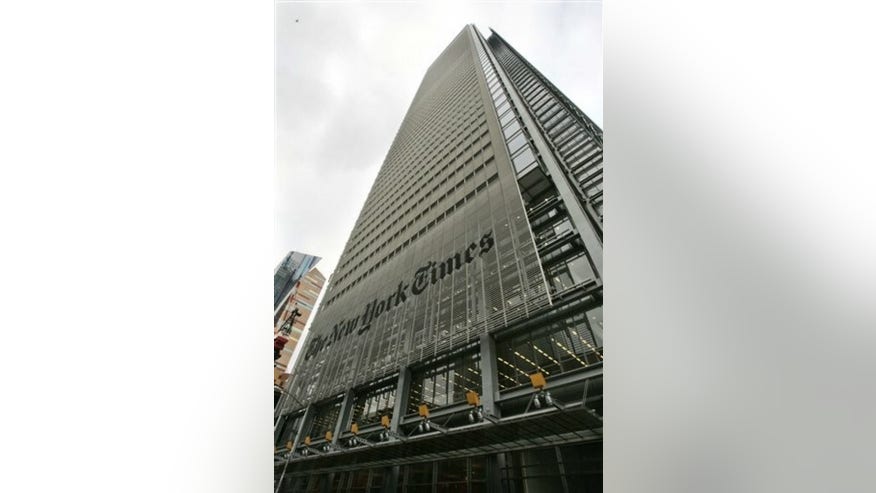 For The New York Times, the 11th anniversary of the 9/11 attacks was not news fit to print – at least not on the front page.
America's "paper of record," headquartered just three miles north of Ground Zero, dramatically scaled back its coverage of the latest anniversary of the attacks, in which terrorist flew planes into the Twin Towers, killing thousands. In typical Times fashion, the decision sparked hand-wringing and introspection among the Old Gray Lady's top brass.
"In subsequent years, we do have to mark these moments, but it will be in a more modest way."

- Carolyn Ryan, New York Times metropolitan editor
"Some anniversaries offer a natural reflection point," Metropolitan Editor Carolyn Ryan told Margaret Sullivan, the paper's public editor, an on-the-payroll watchdog. "Last year's 10th anniversary of 9/11 surely fit that category. "In subsequent years, we do have to mark these moments, but it will be in a more modest way."
Sullivan wondered if it was enough. She noted that on the 10th anniversary of one of America's darkest days, the Times published "an ambitious special section, along with major stories on the days leading up to the anniversary."
But what Sullivan dubbed "anniversary journalism" often finds little to cover outside of related local events, she said.
"There isn't always much to say that is original," Sullivan wrote.
The Times did manage to run stories about infighting among politicians regarding development at Ground Zero and, on Sept. 10, an investigative report laying some of the blame on intelligence-gathering failures by the Bush administration.
Brent Bozell, president of the Media Research Center, said the Times owed more to its readers, especially those in its hometown.
"It's disgraceful on two levels," Bozell said. "First, as a national issue, this being the single deadliest attack on America since Pearl Harbor. And, secondly, as a local issue. This is, after all, The New York Times, not the Honolulu Times."
The Times' website did feature a 9/11 story on the homepage Tuesday morning, and the site was updated with remembrance stories and coverage of the day prominently displayed.
Other New York metro area pages such as the New York Daily News, Long Island-based Newsday, and the Newark Star-Ledger featured front page coverage of the anniversary. The New York Post did not carry a 9/11 story on its front page, though tabloids typically can only feature one story on the front page, while the Times will carry a minimum of five.
The lack of coverage could be attributed to less emphasis on local news from New York City.
"New York is still part of our DNA and important to the soul of the publication, but the actual metro area has, over time, been not the main part of our print readership. And online it's more of an international and national audience," Times managing editor Jill Abramson said during an appearance in August on MSNBC's "Morning Joe" program.
Readers expressed disappointment with the editorial choice on the message board of Sullivan's online column.
"'The amount of journalism, however, must. 'MUST?' I am sorry, but who are you to say what 'must' and 'mustn't' with regard to this tragedy?," said one person commenting from London.
"I'm not sure if, as public editor, you are entrusted with the care and feeding of the historical element of the Times, but must say that I think it's an error to completely omit any mention of 9/11 from the front page today," wrote another person from California.
"If the city of New York is, as Jill Abramson said, part of the Times' DNA, it's necessary to relate to the people of the city who will never get over this anniversary. They still constitute a hefty majority and consequently one hopes a significant part of your readership. I am a newsperson and a transplanted New Yorker, and 9/11, 11 years on, still merits Page One of the Times to me. Even if it were two grafs and a jump."
Perry Chiaramonte is a reporter for FoxNews.com. Follow him on Twitter at @perrych