In the end, there was no miracle for Radamel Falcao and the Colombian squad.
After suffering a torn ligament in his left knee in January, which seemed to put him out of the Cup, it appeared like the star striker was recovering faster than expected.
He posted news on social media of going for long runs and hope grew.
Coach José Pékerman also played the "Waiting for Godot" game, saying just last week that he would "wait for Falcao until the last day, the last minute."
The last minute arrived on Monday but Falcao did not. In a tweet, the national team announced "Muriel, Perea and Falcao are not going to be at the World Cup," referring also to Udinese striker Luis Muriel and Luis Amaranto Perea, a defenseman for Cruz Azul in the Liga MX.
So where does that leave Colombia?
The country roared through Cup qualifying with a high-powered offense that may be defanged without its top scorer (9 of 25 goals) and a stingy defense that allowed only 13 goals in 16 qualifying matches.
The bad news is that the back line is anchored by a 38-year-old, Mario Yepes — something that is always cause for worry heading into a World Cup, especially when facing energetic, attacking squads like Japan and Ivory Coast.
Certainly, two recent ties to Senegal and Tunisia are no reason to celebrate.
The good news? The midfield is a glittery mix of talent and experience, with Falcao's 22-year-old Monaco teammate, James Rodriguez, and Inter Milan's Fredy Guarín seeming ready to shine on the biggest stage.
Players to Watch
Carlos Bacca: The Seville striker is 27 years old and in his prime. He has put the ball into the goal in more than half of all the games he's ever played. If anybody can pick up the slack from Falcao's being injured, it's Bacca.
Jackson Martínez: The FC Porto striker has been attracting a lot of attention at friendlies since Falcao went down in January. He certainly has the ability to score, having notched more than 40 goals since joining Porto in 2012.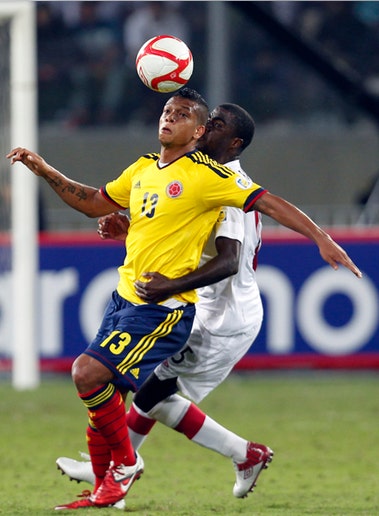 Fredy Guarín: A versatile midfielder who was rewarded by Inter Milan with a multiyear contract extension, Guarín can attack as well as fall back on defense. He has a lot of experience, having played for the national team since 2006.
James Rodríguez: The talented Monaco attacking midfielder is known as "El Nuevo Pibe" – the new kid—after Colombia's world class 1980s/1990s star, Carlos Valderrama. He was able to pick up his game, and his scoring, for Monaco after Falcao went down. Pékerman dearly hopes he can do the same for Los Cafeteros.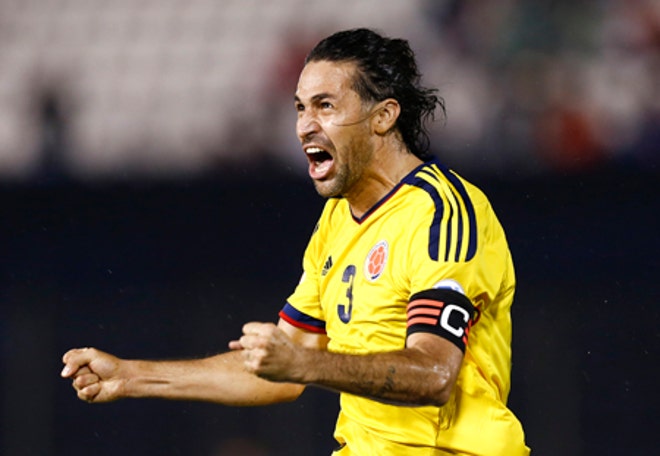 Mario Yepes: Talk about experience. Yepes will finally play in a World Cup after nearly 100 matches with the national team. It's been a few years since "Super Mario" was actually super, but the 38-year-old keeps plugging away in the Serie A with Atalanta. He has been part of two entirely different Colombian squads that have been dubbed "golden generations"—the current one and the 2001-era team that won the Copa America.
Coach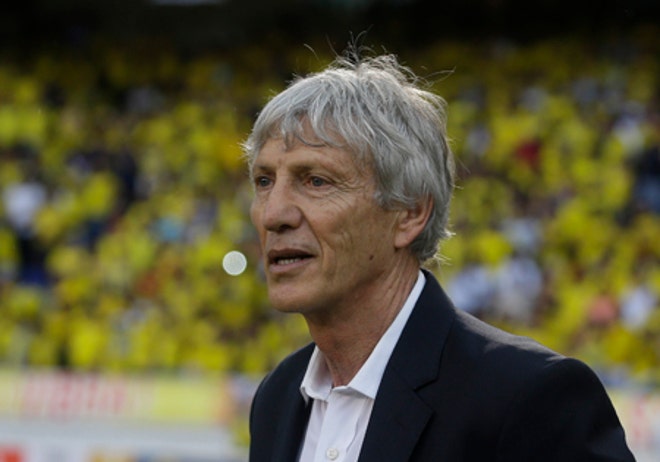 José Pékerman: The 64-year-old coach is no stranger to the World Cup, having guided his native Argentina to Germany in 2006. In the group stage, Argentina sailed through, despite a tough draw, and in the Round of 16 won the most entertaining match of the tournament, a 2-1 extra time victory over a fine Mexican team. In the quarterfinals, Pékerman's team played the hosts to a 1-1 draw, but lost on penalty kicks. The coach was accused of playing for the tie, having replaced an attacking midfielder, Juan Román Riquelme, with a defensive one, Esteban Cambiasso, midway through the second half.
Group
Before Falcao's injury, Group C looked to be a cakewalk for Colombia. Their three opponents – Greece, Ivory Coast and Japan – all have strengths to recommend them, but none of them is a complete package that can compete at both ends of the field. Without its star striker, Colombia should still be able to advance, but the margins are much slimmer all the way around. Of all the Cup groupings, this one may be the most evenly matched.
Quirk
Colombia didn't participate in qualifying for the 1950 and 1954 World Cups because of a dispute between its soccer federation and FIFA. Curiously, the era is known as "El Dorado" because, freed from FIFA's transfer fee rules, Colombian clubs were able to sign top stars from other countries where strikes and unrest had shut down the local leagues, chief among them Argentina, Hungary and Uruguay.
Schedule
v. Greece, Sat. June 14, 12 p.m., Belo Horizonte
v. Ivory Coast, Thu., June 19, 12 p.m., Brasília
v. Japan, Tue., June 24, 4 p.m., Cuiabá