The Ticos should be accustomed to playing second, or even third fiddle. They've been next in line behind Mexico, the United States or both almost without interruption since the beginning of the CONCACAF.
This is the fourth time they've qualified for the Cup, and their best result, making it to the Round of 16 in 1990, made Costa Rica only third team from the region to make it out of the first round after, yes, the U.S. and Mexico.
The preliminary 2014 edition of the Ticos has some very talented attacking players, including PSV Eindhoven's Bryan Ruiz (the Costa Rican captain), Real Salt Lake's Alvaro Saborio, and the young Joel Campbell, who is on loan to Olympiakos in Greece from Arsenal.
But Coach Jorge Luis Pinto has installed a defense-first system that paid off during qualifying against opponents like Jamaica and Panama but seems less likely to yield dividends against the likes of Italy, Uruguay and England.
Players to Watch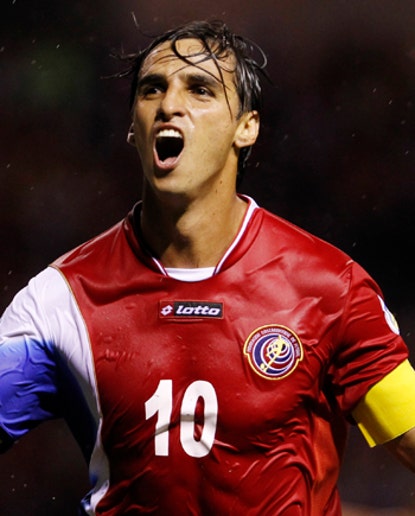 Bryan Ruiz: The 28-year-old attacking midfielder is the best-known Tico player internationally. After a couple of seasons with Fulham, he fell out of favor with new coach René Meulensteen and was loaned out to the Dutch PSV Eindhoven in January, where he's begun reestablishing himself as a threat with 5 goals in 14 games. Ruiz can create opportunities for himself and, at 6'2", he's a threat on corner kicks and other set plays.
Alvaro Saborío: Most of the time Saborío is the "1" in the "5-4-1" formation that Coach Pinto likes to employ. It worked out pretty well, as the 32-year-old responded with 8 goals during qualifying—of course, 5 of those came in two blowouts against lightly-regarded Guyana. Saborío is one of the few players on the 30-man squad with Cup experience. He was used as a replacement in 2006, but failed to score.
Joel Campbell: Young (21) and fast, Campbell is generally believed to be the next great Tico player. But youth also brings with it immaturity, and, as of now at least, he is most famous for a blatant flop during a World Cup qualifier against the U.S. that earned Matt Belser a yellow card and Campbell an after-the-fact reprimand from FIFA. Arsenal has owned his rights since 2011, but has been loaning him out to various European teams, Olympiakos at the moment. Arsene Wenger recently indicated that a sparkling Cup performance might lead the club to call him home.
Giancarlo González: As center back, González, 26, figures to be the keystone of the defense for Costa Rica, especially with Bryan Oviedo of Everton still recovering from a broken leg. The good news is that González has been solid for the Columbus Crew this year, anchoring a defense that ranks No. 5 in the league.
Keylor Navas: The 27-year-old goalie just finished the kind of season in La Liga that really turns heads: Having faced the second-most shots on goal of any keeper, he led the Spanish league in saves—meaning that he almost single-handedly kept Levante in the .500 range. Navas has been rumored as a possible transfer target for Barcelona and Atlético Madrid.
Coach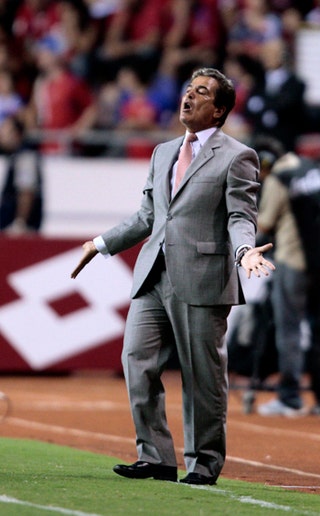 Jorge Luis Pinto: A veteran club coach who has won first-division championships in his native Colombia, Costa Rica, Peru and Venezuela, Pinto is an admirer of Chelsea coach José Mourinho. His defense-first philosophy may have suffered irreparable harm when Oviedo broke his leg playing for Everton. After brief stints coaching the Colombian and Costa Rican national squads ended in disappointment, this is Pinto's first opportunity to coach at a Cup.
Group
Pity the poor Ticos. Group D is one of two legitimate Groups of Death. Collectively the four teams own seven Cup championships and Costa Rica is the only side that doesn't own one. It's unrealistic to think that Coach Pinto's defense will be able to lock down Luis Suárez and Edinson Cavani, Mario Balotelli and Wayne Rooney in successive games. Their best opportunity to earn a point or 3 comes in their last match in Belo Horizonte, where they might just pull off a USA, 1950-style insurrection against England.
Quirk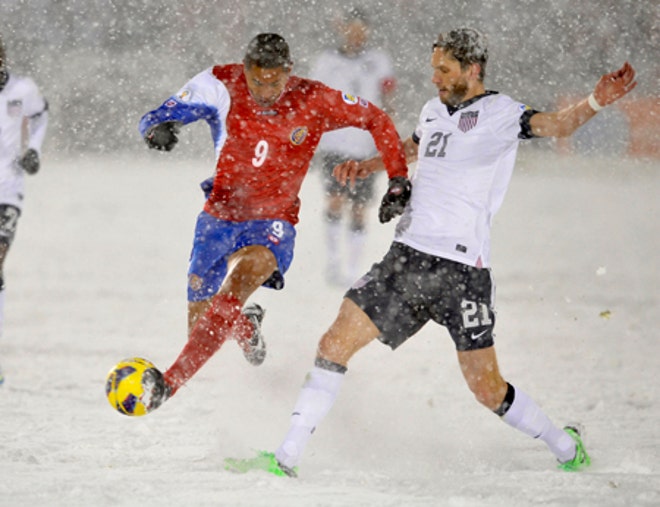 Saborío gets past Clarence Goodson of the U.S., March 22, 2013
In March 2013, Costa Rica and the U.S. played a qualifier in Commerce City, Colo., in the middle of a snowstorm. "An embarrassment to football" is how Jorge Luis Pinto called the match, which was delayed while the grounds-keeping crew tried to clear the sidelines and penalty area lines of snow and also while the refs discussed whether the weather should be declared the winner. They played on, with the U.S. winning, 1-0, on a first-half Clint Dempsey goal.
The Ticos would appeal the result with FIFA, to no avail. When the Yanks arrived in San José for the September rematch, they were turned down by three practice facilities and the local football association somehow forgot to provide game balls for training. The result? A 3-1 win for Costa Rica.
Schedule
v. Uruguay, Sat. June 14, 3 p.m., Fortaleza
v. Italy, Fri., June 20, 12 p.m., Recife
v. England, Tues., June 24, 12 p.m., Belo Horizonte
All times Eastern
Follow us on twitter.com/foxnewslatino
Like us at facebook.com/foxnewslatino