The Chilean squad qualified for their second World Cup in a row – the first time in the team's history – thanks to an impressive qualifying round that saw the Andean team best Uruguay and Paraguay under new coach Jorge Sampaoli.
With wins in friendlies against Brazil and England, and despite a loss to the German squad, Chile's recent upswing on the pitch has them primed for their matches in Brazil.
A well-rounded team with tons of international experience, Chile could experience two problems come summer: One is the health of star midfielder Arturo Vidal and the other is a difficult group which has them pitted against two of the top European teams, the Netherlands and Spain.
Players To Watch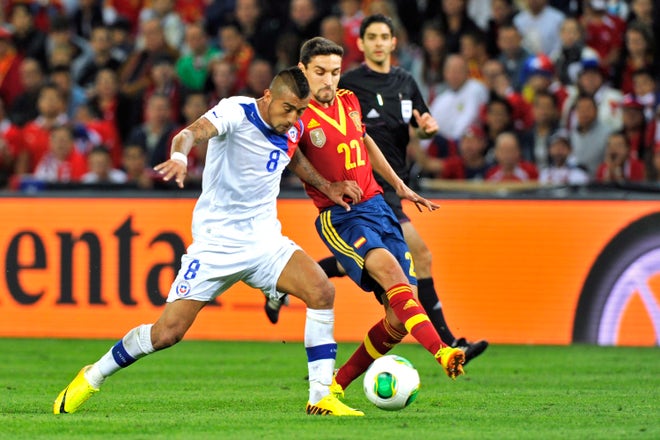 Arturo Vidal: One of the main reasons Chile qualified for a trip to Brazil thanks to his skills on both offense and defense. One of the reasons they probably won't last long in the tournament is that the 26-year old, who plays for Italy's Juventus, is trying to make it back onto the pitch after undergoing knee surgery in early May.
Alexis Sánchez: The Barcelona winger has been tasked with leading Chile's attack almost since his first matches with the national team back in 2006. Judging from the fact that Chile had the second-highest scoring offense in Conmebol qualifying, he's been doing a pretty good job of setting up teammates. Plus he scored four times himself.
Claudio Bravo: Sometimes its best to have the man between the posts also be your team captain and that's exactly what Chile has with Bravo. Plying his trade at Spain's Real Sociedad, the 31-year old has had a long career in Spain and World Cup experience in South Africa, where the team was eliminated in the Round of 16.
Eduardo Vargas: Helping Sánchez with attacking duties will be the 24-year-old Vargas, who is currently on loan to Valencia in Spain. A versatile player and a savvy ball-handler, Vargas is most comfortable playing as a striker but can also shift to the right wing.
Gary Medel: A defensive midfielder, "El Pitbull" made an impressive start to his international career by scoring on a bicycle kick in 2010 World Cup qualifying against Bolivia. On the club level, the 26-year-old plays for England's Cardiff City, and he adds both experience and speed to the Chilean side.
Coach
Jorge Sampaoli: The Argentinian has spent his managerial career mostly bouncing around clubs in South America. When he was named to head up the Chilean squad, it was his first time coaching in the international ranks, and so far it has been very successful. A former player for Argentina's Newell's Old Boys, he favors an aggressive, pressing defense. It worked for La Roja. Sampaoli led them to an impressive 5-1-1- record in their final seven qualifiers to claim third place in CONMEBOL.
Group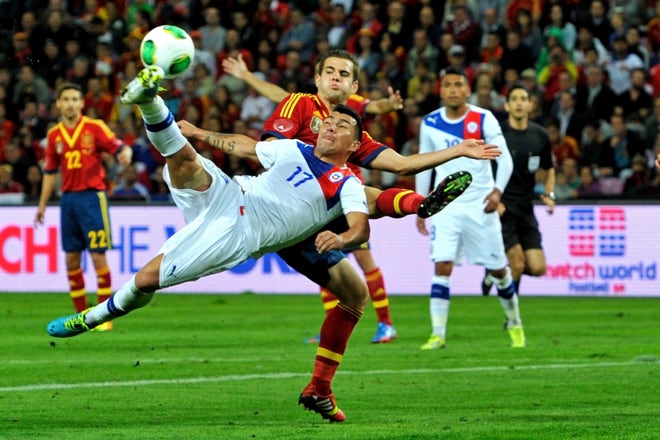 This quality Chilean side may unfortunately be undone by the luck of the draw. While much has been made about whether Group G or D is the dreaded "Group of Death," Chile didn't have much to celebrate, getting drawn into Group B. With matches against reigning World Cup champs Spain and runner-up Netherlands, Chile's best hope to make it out of group play is to drub Australia in its first game, then earn a draw against either Spain or the Netherlands. That, plus a lot of hope just might get them home.
Quirk
In 1962, Chile hosted the World Cup and finished in third place. It has not made it past the round of 16 since. With the Cup back in South America for the first time since 1978, Sampaoli's team would like to prove that they earned their spot in the tournament.
Schedule
v. Australia, Fri. June 13, 6 p.m., Cuiaba
v. Spain, Weds. June 18, 3 p.m., Rio de Janeiro
v. The Netherlands, Mon. June 23, 12 p.m., São Paulo
All times Eastern
Follow us on twitter.com/foxnewslatino
Like us at facebook.com/foxnewslatino