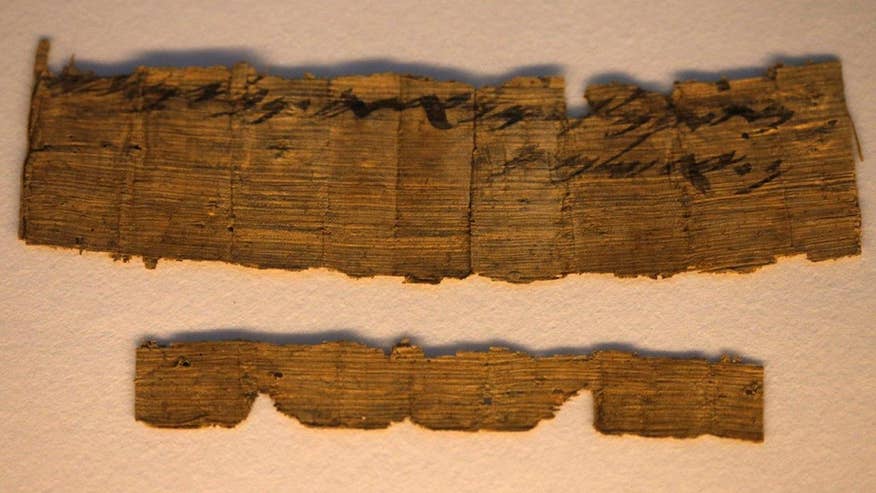 A rare papyrus with ancient Hebrew script has been seized from looters in Israel. The document contains the earliest reference to Jerusalem outside the Bible, experts say.
The 7th century B.C. papyrus was recovered by law enforcement and revealed by the Israel Antiquities Authority Wednesday. The Authority said that the document had been plundered from a cave in the Judean Desert by a group of antiquities robbers.
Two lines of Hebrew script are preserved on the papyrus. The English translation reads: "From the King's maidservant, from Na'arat, jars of wine, to Jerusalem."
Related: 25 new 'Dead Sea Scrolls' revealed
The document indicates the payment of taxes or transfer of goods to storehouses in Jerusalem, the capital of the ancient Kingdom of Judah, according to the Israel Antiquities Authority.
"The discovery of the papyrus shows that there are other artifacts of tremendous importance to our heritage that are waiting to be found in the Judean Desert caves," said Israel Antiquities Authority Director Israel Hasson, in a statement. "The world's heritage assets are being plundered on a daily basis by antiquities robbers solely for greed."
Related: Got $250,000? Earliest known 10 Commandments inscription up for auction
Hasson urged the Israeli government to allocate resources for systematic excavations of all the Judean Desert caves.
"Organic material, such as documents, particularly delicate paper like papyrus, perish over time due to their sensitivity to moisture," added Amir Ganor, director of the Israel Antiquities Authority's Unit for the Prevention of Antiquities Robbery. "The dry climate of the desert is exceptional in that it facilitates the preservation of documents that provide invaluable information regarding the way of life in antiquity and the early development of religions."
A paleographic examination of the writing and carbon dating were used to determine the age of the artifact.
Related: Ancient blaze leveled city in 3 hours
However, Christopher Rollston, a professor of Northwest Semitic languages and literatures at George Washington University, has questioned whether the authenticity of the papyrus inscription. "The fact that the papyrus itself has been carbon-dated to the seventh century BCE certainly does not mean that the writing on the papyrus is ancient," he told LiveScience.