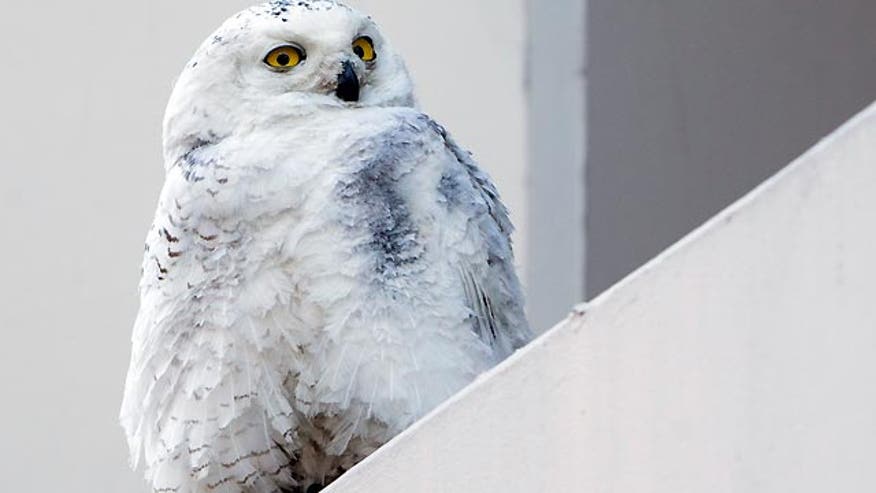 Winter on Cape Cod is a solitary time. The beaches are empty and the summer tourists a memory, but this year visitors from the far north are drawing quite a crowd.
Snowy owls have flown down from the arctic tundra, spotted as far south as Florida and many more are being seen in the Northeast. Experts say it's the largest migration of snowy owls to the United States in decades.
"If you put it in perspective, I've been doing snowy owl research for 32 years and this is by far the biggest year that I've ever seen," said Norman Smith, a director at the Massachusetts Audubon Society.
The birds themselves are big enough to cause problems for pilots. Several of the nation's airports have catch and release programs to prevent bird strikes. Smith heads the effort at Boston's Logan Airport where more than 80 snowy owls have been caught this season- a record.
"An average year at Logan airport, we remove 6 to 8 snowy owls a winter," said Smith who acknowledges the bird's presence at an airport is part blessing, part curse. They are predators so their presence helps to keep other birds away but they are large, with a wing span reaching over four feet, which makes them a risk.
"It's not a flocking bird," explains Smith. "Now the biggest risk you have is with flocking birds, like Canada geese, or gulls or ducks- water fowl. But any bird in the airport can be certainly a threat and so for the safety of the airplanes and for the birds we catch them and remove them from the airport."
For Smith, releasing the birds is the biggest thrill. Sometimes the birds are tagged with a tracking device that gives researchers further insight into their travels. One previously tracked snowy owl spent the summer above the arctic circle and returned Boston, traveling more than 7,000 miles in one year.
On Cape Cod's sea-side terrain snowy owls are thriving. Far from starving, the birds are feasting on rodents and water fowl.
"Normally we see one or two owls, this year we're seeing five or six," said Nina Coleman, the Park Manager at Sandy Neck Beach Park in Barnstable, Massachusetts.
While there is still much to learn about these owls, the working theory among many experts to explain the increase in the number of snowy owls that have traveled south is that the species had a banner year for food.
"They breed up in the arctic and the population eats mostly lemmings up there, which is like a rodent, like a hamster size rodent and the lemmings are doing really well so then you see the owl juvenile's doing really well," explains Coleman.
The birds are attracting an audience. Bird watchers, armed with binoculars, brave the winter cold sometimes hiking through sand and snow hoping to catch a glimpse. It's not always easy. The birds blend into their environment, disappearing into the snowy landscape for which they're named.
"I've always wanted to see one," said Shannon Eldredge, one of many bird watchers staring across the marsh in West Dennis, Massachusetts. "It's big. I didn't realize how big it was. She or he is kinda like fat and big and really white and beautiful. Yeah, it's cool."
That's a sentiment shared by fellow bird watchers.
"To see it sitting in the marsh over here. It's just majestic," said Shareen Davis.
There have been thousands of snowy owl sightings across the country this winter and they're expected to stay for another few month before they make the long flight home.
Click here for more on the Snowy Owl Project.
Molly Line joined Fox News Channel as a Boston-based correspondent in January 2006.