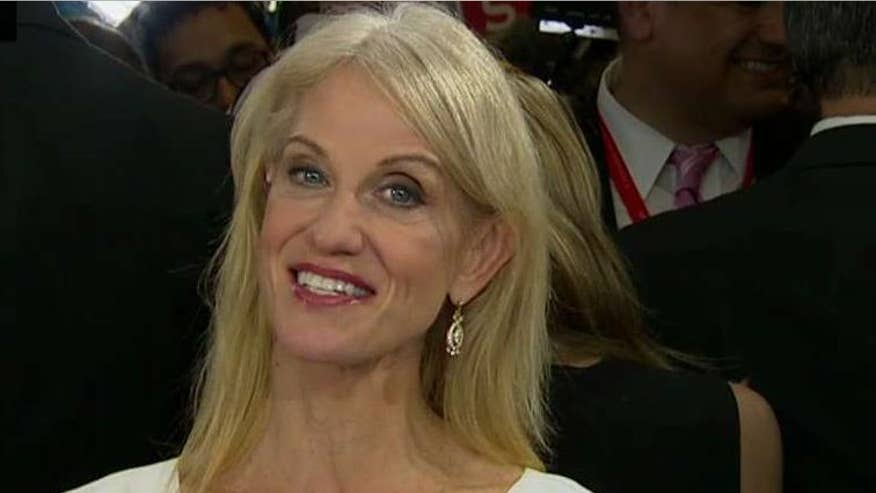 Donald Trump's campaign manager said certain members of Congress who have been critical of the GOP nominee's recently revealed lewd comments from 2005 are on "their high horse," and she not-so-subtly hinted that some of those politicians may have indiscretions of their own to answer for.
Kellyanne Conway told Fox News Channel's Megyn Kelly after Sunday night's presidential debate that Trump's controversial 11-year-old hot mic comments were repugnant, but merely the result of "two guys" talking. Then she cautioned that some critics shouldn't throw stones.
"Let me tell you something, there are members of Congress, current and former, who have rubbed up against women and who have put their tongues in their mouths uninvited," said Conway, who didn't name anyone she alluded to. "Maybe when I was younger and prettier that may have happened to me."
Conway's comments come in the wake of several Republican congressman, senators and governors withdrawing support for Trump – or even telling him to step down from the presidential ticket – in light of the 2005 remarks, which were made public on Friday. Democrat lawmakers have roundly condemned the remarks, too.
"In other words these people on their high horses are accusing him of being this awful person, and really the words I think are most harmful is when everybody's running around saying he's condoning sexual assault," Conway said. "No, he's not."
Kelly said the two women may have to discuss Conway's allegations at length in the future, to which Conway replied: "Yes, let's do that."
"We can demean them and shame them," said Conway, who then looked at the camera. "I'm here guys, shouldn't have done it."
Kelly added the kicker, addressing any potentially guilty congressman: "[Conway] became very powerful – sucks for you."