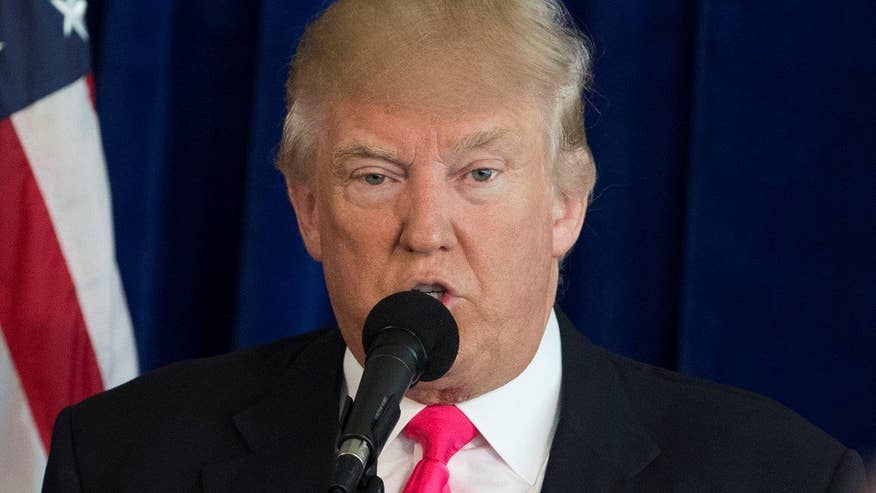 Donald Trump on Wednesday accused Democrats attending their national convention of ignoring security issues ranging from border policies to the Islamic State, arguing a Hillary Clinton administration would only make the situation worse as security in Europe and beyond unravels.
"France is no longer France," the Republican presidential nominee said during a wide-ranging and nearly one-hour press conference in Miami. "Look at what's happening in Syria, with immigration, in Iraq. And under Hillary Clinton it will only be worse."
Trump restated his hardline immigration position that the United States should at least temporarily ban immigrants from Middle East countries that are hotbeds for ISIS and other radical Islamic terror groups. And he argued that Clinton's vice-presidential nominee, Sen. Tim Kaine, wants to further open U.S. borders to people from such countries.
"He even wants more people coming in from that region than Hillary Clinton does," Trump said. "I don't want people coming into the country doing damage to our people."
Trump spoke before the start of the third day of Democrats' nominating convention in Philadelphia that ends Thursday.
He also talked shortly after another terror strike in France in which two armed men claiming to be ISIS fighters slit the throat of an 84-year-old priest in northern France, killing him. The attack occurred about two weeks after an apparent radicalized Muslim killed 84 people in Nice, France, on Bastille Day.
Clinton is scheduled to make her acceptance speech on the final night of the convention. But so far, the long list of Democratic lawmakers and politicians who have spoken before her -- including husband and former President Bill Clinton -- have largely focused on such social issues as equality for women and minorities and on more affordable education, with little talk about U.S. border security and the war of terror.
"And we're letting people in by the thousands," Trump said of U.S. immigration policy under the Obama administration.
Trump also took some heat from Democrats for a comment about Clinton's deleted private server emails. As he pushed back on suggestions Russia might have helped his campaign by allegedly hacking Democratic National Committee files, he appeared to joke that he hopes Russia can also find "30,000 emails that are missing."
Clinton adviser Jake Sullivan fired back: "This has to be the first time that a major presidential candidate has actively encouraged a foreign power to conduct espionage against his political opponent. That's not hyperbole, those are just the facts."
Trump clarified on Twitter, saying: "If Russia or any other country or person has Hillary Clinton's 33,000 illegally deleted emails, perhaps they should share them with the FBI!"
The first-time candidate, meanwhile, said he disagreed with a federal judge's decision hours earlier to release from prison John Hinkley Jr., who tried to kill President Reagan.
On another breaking news story, he agreed with Baltimore City prosecutors' decision Wednesday to drop all charges against three remaining police officers charged in connection with the 2015 death of black male Freddie Gray while in police custody.
"She ought to prosecute herself," Trump said of State's Attorney Marilyn Mosby, arguing her remarks after Gray's death made the officers seem "guilty before the trail."
Trump also took several shots at Anthony Weiner, after the disgraced former Democratic congressman boasted that he'd come out of political retirement to run against Donald Trump Jr. for New York City mayor -- claiming he'd beat him "like a rented mule."
The elder Trump called Weiner a "proven loser," while making clear his son has "no intention of running for mayor." He also called Weiner a "sleazeball and a pervert" and voiced concern about wife Huma Abedin – a top Clinton adviser – sharing national secrets with him.