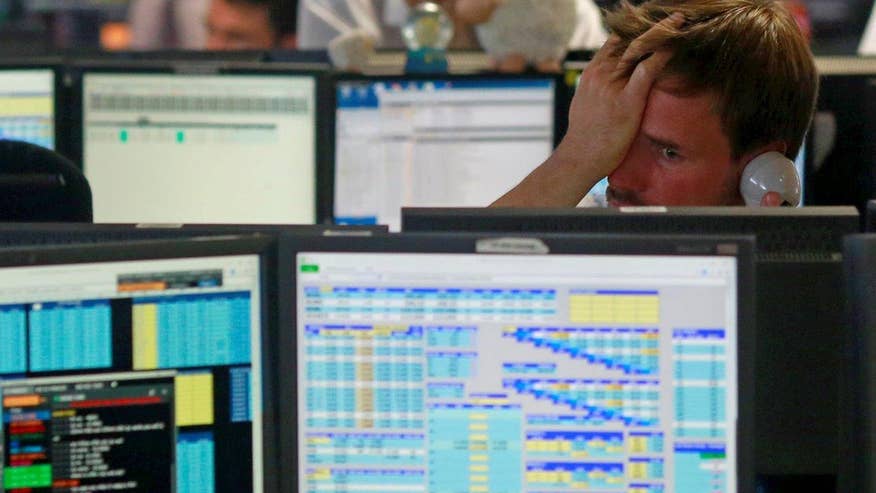 **Want FOX News Halftime Report in your inbox every day? Sign up here.**

On the roster : Some Brexit bits - Power Play: Can Trump make it in the mainstream? - Bernie gets to 'yes' - Nutty…
SOME BREXIT BITS
In journalism, as in life, nothing begets certitude like ignorance. And there are many certain ignoramuses unloading many metric tonnes of analysis about the vote in Britain to leave the European Union.
It's enough to make a man want to Brexit a top-floor window.
Rather than try to whip up a merengue of false certitude on something still uncertain, we all ought to take a breath and remember that we know a lot less about how this will work and what it means than even the real experts are letting on.
To that end, here are a few scattered observations that you ought to bear in mind now and as the process plays out:
--President Obama is surely singed by the British vote. And he may yet be burned. Obama stuck his nose in the vote expressing his opinion on a U.K. visit and his policy of accommodating refugees from ISIS in Western nations helped precipitate the result.
--Obama's designated successor, Hillary Clinton, seems to have more campaign than she knows what to do with. It took Clinton more than 10 hours to cough up the blandest of bland statements about the vote, or pure rhetorical Marmite. If you're not going to say anything, you ought to hurry up about it.
--It sounded daft when Donald Trump scheduled a visit to Scotland to promote his golf course on the day after the vote. But as it turns out, Trump was quite right -- and not just because the vote went his way. Had the vote gone the other way Trump could've shunned questions and just been all about the bogeys.
--"Leave" lover Boris Johnson's hair is what Donald Trump's would look like if hair could have a hangover.
--We've talked before about the growing similarities between American and European politics, in which Euro cultural identity supplants American ideology. Boy, howdy! Trump's unabashed nationalism and often-repeated warnings about foreigners, particularly of the Muslim variety, fit right in the Brexit debate.
--Just because Britain is the country most like America, beware straight-line comparisons. You could take just as clear a message from Canada's election of an ultra-liberal, open-borders prime minister as you could the nationalist swing in the U.K. Margaret Thatcher may have presaged Ronald Reagan and Bill Clinton may have foreshadowed Tony Blair, but those only become clear in hindsight.
--Nobody knows what the consequences of the vote will really be. It will take two years to unwind Britain's membership in the already-decrepit EU, how the voters in contributor members like the Netherlands and Germany react as well as the decisions of those in Europe's consumer class of Greece, Portugal, Spain and Italy will say so much.

--Democratic operatives should in the quiet of their hearts be hoping that any disruptions come sooner rather than later. Unrest and economic upheaval would be a boon to the Clinton campaign.
--Media still matters! Britain's opinionated press not only sowed the seeds for the vote, but also managed to push the issue front and center.
--David Cameron, the Jeb Bush of Britain, showed class in defeat. He may have low energy, but Cameron's decision to bow out at once was gracious and a model for American politicians in defeat. Cameron had not covered himself in glory during the "Remain" campaign, but did himself well in departure.
--American politicians ought also to heed a warning from the vote. Both "Leave" and "Remain" advocates made lavish promises and offered many unsubstantiated facts during the campaigns. But it's the leavers now who will have to try to make good. Wild claims may get attention and win votes, but can make governance impossible.
--British pollsters didn't screw up nearly as much as they have recently. The country is hard to poll for many reasons and outlets there have improvidently used online polls too much and too soon, often with embarrassing results. This time was better.
--Please stop with the "betting markets are better" jazz. Markets on commodities or stocks can be revealing since there is usually special expertise among traders. But on the outcome of an election, the only available data is usually polling. And in this case markets were simply intensifiers of short term trends on public opinion.
POWER PLAY: CAN TRUMP MAKE IT IN THE MAINSTREAM?
For weeks the Trump camp's new team leader Paul Manafort promised his bombastic candidate could be mainstreamed, but keeping him mainstreamed has presented a whole new set of challenges. Can Trump keep the party line teleprompter in tow? And if he does, will his voters like the K Street makeover? David Payne and Brad Blakeman explain to Chris Stirewalt. WATCH HERE.
[How much money is enough for Trump to be competitive with the Clinton machine? Our panel weighs in. WATCH HERE.]
TIME OUT
The Tennessean: "Bluegrass legend Dr. Ralph Stanley died Thursday night after a battle with skin cancer, according to a Facebook post by his grandson, Nathan Stanley. Dr. Stanley was 89 years old and a member of the Grand Ole Opry and the Bluegrass Hall of Fame. After receiving an honorary Doctorate of Music from Lincoln Memorial University in 1976 (and another from Yale in 2014), he was known to fans worldwide as 'Doctor Ralph.' Singing was as natural as breathing for Ralph Edmund Stanley, who was born Feb. 25, 1927, on Big Spraddle Creek in Dickenson County, Virginia. His first public performance was in church, and when he was 11 years old, his mother said he could either have a pig or a banjo. Luckily for music fans everywhere, he chose the latter. His style of banjo picking — which, like the man himself, had no frills — would go on to influence countless musicians."
[Ed. note: R.I.P., Dr. Stanley. Our sorrow will be constant in your absence, but so will our joy in your reward.]
Flag on the play? - Email us at HALFTIMEREPORT@FOXNEWS.COM with your tips, comments or questions
SCOREBOARD
Average of national presidential polls: Clinton vs. Trump: Clinton +5.8 points
Generic congressional vote: Democrats +2.2
BERNIE GETS TO 'YES'
USA Today: "Bernie Sanders may not be quite ready to formally end his Democratic presidential bid, but he says he will vote for Hillary Clinton in November. Speaking on MSNBC Friday morning, he was asked whether he planned to vote for Clinton, the presumptive Democratic nominee, in the fall election. 'Yes. Yeah, I think the issue right here is, I'm going to do everything I can to defeat Donald Trump,' the Vermont senator said…Sanders said he's 'pretty good in arithmetic' and knows Clinton has more delegates. But he noted he's bringing 1,900 delegates into the Democratic National Convention. He said his goal is to reinvigorate the party, bring in 'new blood' and have a party that represents working people."
[Team Clinton is out with a new ad that highlights America's Hispanic heritage. The ad, in Spanish, will air nationally during Sunday's Copa America match.]
Trump converts loans into contributions - WaPo: "Presumptive Republican presidential nominee Donald Trump's campaign announced Thursday that he has forgiven more than $50 million in loans he made to finance his presidential bid, converting them into contributions in an effort to reassure GOP donors that he is personally invested in the effort. … The campaign, however, can continue to reimburse Trump's companies, and those of his children, for campaign-related expenses, including travel."
Fox News Sunday: Hillary's honcho - Clinton camp manager Robby Mook joins Mr. Sunday this week to break down the latest 2016 news. Watch "Fox News Sunday with Chris Wallace." Check local listings for broadcast times in your area.
[#mediabuzz - Host Howard Kurtz and guests give their take on the latest media news. Watch #mediabuzz Sundays at 11 a.m. and a reairing at 5 p.m. ET.]
PLAY-BY-PLAY
Clinton failed to turn over key message on server - AP
New ad from pro-Trump PAC uses 90's scandals to make Clinton seem anti-woman - NYT
Eliana Johnson explains the significance of 28 delegates at the RNC - NRO
Clinton pushes dozens of policy proposals but doesn't make priorities clear - WSJ
Top Clinton donors are worried about running Trump out of the race pre-convention - Politico
Sanders tells N.Y. crowd 'never ever lose your sense of outrage' - USA Today
Ben Carson rebukes Trump's questions on Clinton's faith, says faith is private - Daily Beast
AUDIBLE: ACTUALLY…
"I have a lot of friends living in Germany that've always been very proud Germans, to a level that you wouldn't believe." – Donald Trump at a press conference discussing the nationalist trend in European politics.

FROM THE BLEACHERS
"Since both Clinton and Trump have such very high unfavorable ratings, the November election's essential calculus is relatively simple. If the contest becomes a referendum on Hillary Clinton, Donald Trump wins. If it's all about Donald Trump, Hillary Clinton wins. That's why Clinton will probably win. She wants to make the election about Trump – and so does he." – Bob Foys, Chicago, Ill.

"Chris Stirewalt is one terrific, verbal, sassy and brilliant political writer out there. I look in my inbox each day for the punchiest, pithiest reportage. Right now, I'm praying for Brexit to pass & give a big boost to my Presidential candidate, Donald Trump." – Barbara Ax-Keating, Santa Barbara, Calif.

[Ed. note: Sassy is a new one for me! But I am flattered, nonetheless.]
"Have to sharply disagree with Vira Doughton, Pennsylvania and her comment [in Thursday's 'From the Bleachers'] regarding Mitt Romney. He's been one of the few voices of Republican reason in this election season. Trump doesn't care a whit about this country or the Republican Party. He's only out for himself and because of his idiotic ideas we're going to be stuck with another Hilary for four years." – Mark G. Mazzie, Malvern, Pa.

"[In Thursday's] From the Bleachers - it was said: 'One of my biggest disappointments with everything this year is Mitt Romney.' Not only do I agree, but in addition, I have lost respect for Mitt." – Karen Mathison, Los Angeles, Calif.

[Share your color commentary -- email us at halftimereport@foxnews.com -- please make sure to include your name and home town.]
NUTTY
UPI: "A Montreal dad enlisted the help of a wild squirrel for a bit of amateur dentistry -- removing his daughter's loose tooth. The video, filmed in a Montreal park, depicts David Freiheit and his daughter affixing some dental floss to the girl's loose tooth. The girl remains on the bench while Freiheit backs away to film. A squirrel shows interest in granola tied to the other end of the floss and pulls on it hard enough to remove the tooth. 'Not many people get to say they did something for the first time in human history,' Freiheit wrote online. 'Today, my kid and I get to say that.'"
AND NOW A WORD FROM CHARLES…
"It was almost as if the judge was instructing a middle school class on the constitution…The president is a chronic - he's a recidivist on this issue, and he needed to be slapped down again." – Charles Krauthammer on "Special Report with Bret Baier."

Chris Stirewalt is digital politics editor for Fox News. Sally Persons contributed to this report. Want FOX News Halftime Report in your inbox every day? Sign up here.
Chris Stirewalt joined Fox News Channel (FNC) in July of 2010 and serves as politics editor based in Washington, D.C. Additionally, he authors the daily Fox News Halftime Report political news note and co-hosts the hit podcast, Perino & Stirewalt: I'll Tell You What. He also is the host of Power Play, a feature video series on FoxNews.com. Stirewalt makes frequent appearances on network programs, including America's Newsroom, Special Report with Bret Baier and Fox News Sunday with Chris Wallace. He also provides expert political analysis for FNC's coverage of state, congressional and presidential elections.