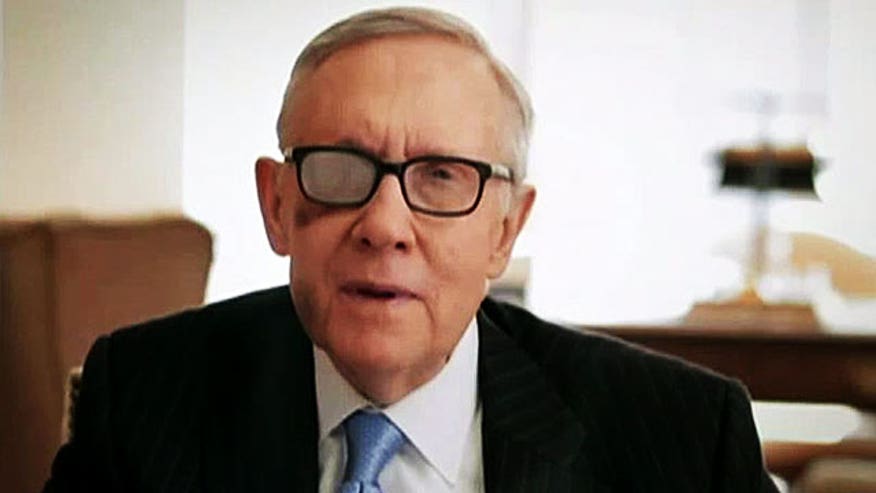 Senate Minority Leader Harry Reid announced Friday he will retire at the end of his term, closing a long and controversial career in Congress that spanned four decades.
The five-term Nevada Democratic senator announced the decision in a YouTube video message.
Appearing with bruises on his face from a recent at-home exercising accident, Reid, 75, said the injury has allowed him and his family to have a "little down-time," giving him time to think.
"We've got to be more concerned about the country, the Senate, the state of Nevada than us. And as a result of that, I'm not going to run for reelection," the senator said in the video.
Reid, ribbing his Republican counterpart, added: "My friend, Senator McConnell, don't be too elated. I'm going to be here for twenty-two months."
Though Reid plans to serve out his term, his departure touches off a leadership shuffle among Democrats. Reid already is endorsing Sen. Charles Schumer, D-N.Y., for his position -- and other Democrats are doing the same.
"It's the caucus' decision but Senator Reid thinks Senator Schumer has earned it," a Reid spokesman told Fox News.
Schumer's most obvious competition would have been Senate Democrats' No. 2, Minority Whip Dick Durbin, D-Ill. -- however, Durbin is backing Schumer, Fox News has learned.
Reid, who helped President Obama pass a series of initiatives including the health care law, has been a controversial figure -- and during his tenure as majority leader was blamed by Republicans for much of the dysfunction in the chamber. Republicans won the majority last fall.
"On the verge of losing his own election and after losing the majority, Senator Harry Reid has decided to hang up his rusty spurs," National Republican Senatorial Committee Director Ward Baker said in a statement welcoming the announcement.
Praise from fellow Democrats, meanwhile, was effusive.
Obama called him a "fighter" who stood up to special interests.
"Harry is one of the best human beings I've ever met," Schumer said. "His character and fundamental decency are at the core of why he's been such a successful and beloved leader."
First elected to the Senate in 1986, Reid previously served in the House. He has endured tough re-election battles in 1998, 2004 and most recently 2010 -- against Tea Party-backed candidate Sharron Angle.
Among other decisions, Reid will be remembered for allowing the so-called "nuclear option" in late 2013, when he unilaterally moved to change Senate rules to allow a simple majority vote to overcome filibusters for certain nominations. While procedural, the change was significant because it meant the Senate no longer needed the usual 60 votes to advance on controversial nominations.
Republicans quickly gloated that his seat would be a prime pickup opportunity in 2016. GOP figures ranging from Nevada Gov. Brian Sandoval to Rep. Joe Heck and others could be interested.
Sen. Harry Reid (NV) Announces Retirement | InsideGov
Fox News' Chad Pergram contributed to this report.