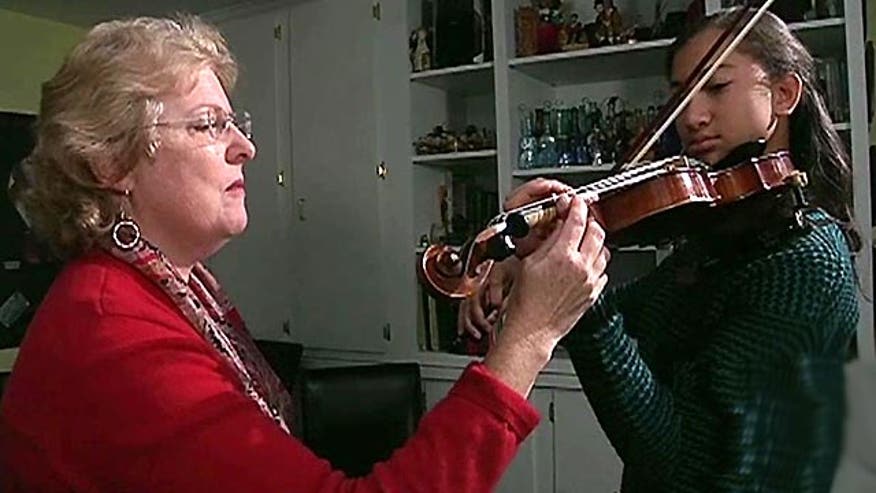 The Federal Trade Commission was created in 1914 in the age of oil barons and rail tycoons to bust the big trusts. Today, it's busting a smaller enterprise - the Music Teachers National Association.
Last March, the FTC sent notice to the MTNA that it was under investigation for "anti-competitive practices." At issue: a passage in the trade association's ethics code that says teachers should not actively recruit from other teachers.
"We feel that that provision not only protects the students but ensures that teachers are going to get along well with their colleagues, " says Gary Ingle, the MTNA's executive director.
Ingle says it's a method of avoiding the rare conflict, where, for example, an accomplished student pianist may be approached after a competition by a rival instructor who promises to help the student win the next competition.
The FTC sees it as a threat to America's consumers.
But violin teacher Catherine Stewart sees it differently. "It's outrageous as far as I'm concerned," she says.
Stewart, one of MTNA's 22,000 members, fears that her dues to MTNA will now go to fighting the FTC's action.
MTNA's Ingle says that's already happening. His 12-member staff in Cincinnati, Ohio has had to compile 17 years worth of records, including its by-laws, ethics code, journals, finances and membership to satisfy the FTC's demands.
"It's very hard to understand the motivation for what they're trying to do," says Clifford Winston of the Brookings Institution. "How are consumers being harmed? This is one in a long line of interventions that are hard to rationalize."
Winston points to another case - the federal government's resistance to the proposed merger of American Airlines and US Airways - as another case of overreach. "The Justice Department objected to that, but they had no basis for it. And in the end, they tried to save face in a negotiation where the airlines gave up slots at airports," he says.
The FTC declined to comment to Fox News because it's an ongoing case. But a former head of the FTC's anti-trust division, Susan Creighton, told Fox News it is common for the FTC to investigate price fixing in cases where trade associations include phrases like, "It would be unprofessional to compete with one another" in their by-laws.
In the meantime, the MTNA has removed the passage from its ethics code, while it attempts to comply with an FTC consent decree.
Doug McKelway joined Fox News Channel (FNC) in November 2010 and serves as a Washington-based correspondent. Click here for more information on Doug McKelway.