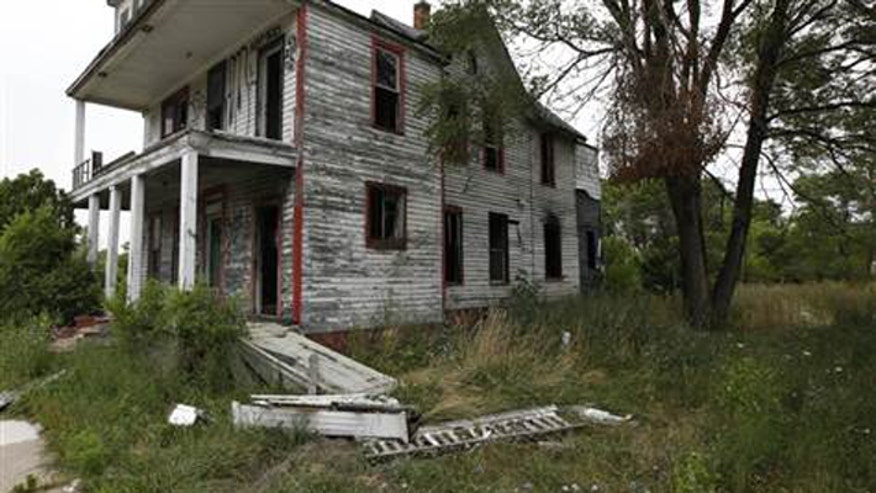 Michigan lawmakers tired of failed efforts to save Detroit from its long, slow decline are poised to appoint an emergency manager who will assume control of virtually all aspects of city government. And union contracts could be in the crosshairs.
The contracts, and their benefits, have contributed to nearly $15 billion in unfunded liabilities for the city – an attractive target for any manager looking to cut costs and shift money to much-needed government services such as law enforcement and trash pickup.
Republican Gov. Rick Snyder made the decision to appoint the manager Friday, after agreeing with a state review board that concluded Detroit was in a state of financial emergency with no satisfactory solution.
"Chronic budget problems have taken a significant toll on everyday life for citizens," Snyder said. "Detroiters deserve to feel safe when they walk down the street, to have their street lights on, to have the bus show up to take them to work."
Snyder must wait until at least March 11 before making an appointment to allow the city to appeal his emergency declaration – setting up a likely showdown with leaders of the Democrat-controlled city.
"The appeal is coming irrespective of whether a manager is appointed," city school board President LaMar Lemmon told FoxNews.com on Monday.
Lemmon argued that whoever the emergency manager is should look beyond union contracts to balance the budget. "Organized labor has already been cut to the bone," Lemmon said.
He also complained that Snyder was using a legal "loophole" to appoint a manager before a new law takes effect March 28. Under current policy, the manager would have authority over contracts; the new law would still give the manager full authority to restructure or terminate union contracts but also give local governments and schools alternatives to an emergency manager, including a mediator and filing for bankruptcy.
Detroit, once the center of the country's automotive industry, has been sliding for decades – with a general fund in the red for roughly the past nine years and a fiscal 2012 deficit of $327 million.
The city's myriad problems are in part the result of the country's overall decline in manufacturing and U.S. automakers moving operations elsewhere.
However, the city has a history of corruption, including Mayor Kwame Kilpatrick resigning in a 2008 sex-and-perjury scandal that cost the city almost $9 million from a lawsuit and legal fees.
As a result, officials have struggled to keep up municipal services in the sprawling city with a population – and tax base – that is just half of what it was in the 1950s and with unemployment remaining in the double digits.
However, getting enough revenue to get the city running again could come down to terminating or restructuring the union contracts, under the full strength of the law.
"You come up with one reason why Detroit is now in this situation: It's the unions," Matt McCall, president of the Penn Financial Group, told Fox News on Monday. "The unions are destroying Detroit."
He said something like an emergency manager is needed because the officials now running Detroit are not going to make tough decisions about the union contracts.
Voters call the new law slightly better than the one they repealed in 2011 -- but still call it a "dictator" law that hands power to the state.
"Mussolini got the trains to run on time," Lemmon said. "But America made the decision a long time ago to have a democracy."
As an alternative to fiddling with contracts, he recommended making Detroit suburbs help out the city and making sure municipal employees live within city limits.