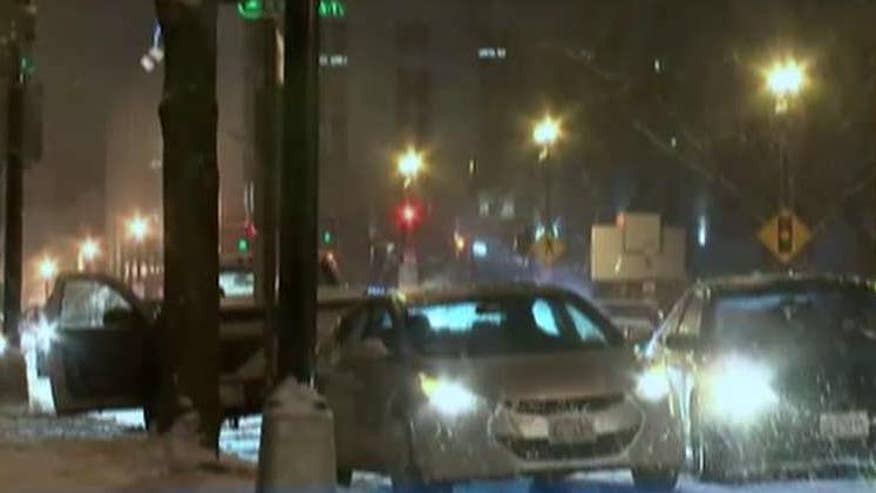 On Thursday, Washington, D.C., Maryland, and Virginia declared states of emergency starting Friday for the "blizzard" scheduled to hit the D.C. metropolitan area over the weekend.
Democratic D.C. Mayor Muriel Bowser, Virginia Democratic Gov. Terry McAuliffe, and Maryland Republican Governor Larry Hogan have requested that the National Guard be made available should they be needed to help stranded motorists and transport relief supplies.
Indeed, the mayor said in a press conference on Thursday that the storm is the most snowfall she can remember forecasted on record – this despite some major regional storms in 2010, 2003, and 1996.
Of course, the all-hands-on-deck panic that has stricken the city should come as no surprise, particularly after the scalding hot backlash the mayor received Thursday when the city got one inch of snow/ice that literally brought it to a standstill. Cars and trucks were stuck on main arteries of Massachusetts and Wisconsin Aves. for hours. Local news reported that some people were stuck in their cars overnight. Even President Obama's motorcade couldn't get the president to Air Force One where he could leave the dreck behind.
Geez, you'd think D.C.-Metro was Atlanta.
Minnesotans and other heartier stock are probably laughing at the thought of it. It's a Politburo joke, right? Why didn't people just get out of their cars? They did.
Why didn't they just drive slowly and cautiously and in an orderly fashion? That's a foreign concept for the "me-first" crowd.
Why are D.C. drivers so bad? Excellent rhetorical question.
Why didn't they just lay down some salt? Theory: they're saving it up for the big storm. Reality: Washington doesn't know how to save!
Perhaps the answer for why Washingtonians can't get out of their own way lies in their history of not challenging the status quo. After all, once you move to Washington – whether you're a Minnesotan or a Texan – you automatically turn into the "establishment." Each and every transient eventually becomes a victim of the groupthink that shrouds the city.
By now, it's probably clear to everyone outside the Beltway blast zone that the root cause of Washington's alternating malaise and hysteria is... government, of course. What else could turn otherwise capable people into melodramatic automatons?
There's one other thing, and it is mighty and powerful. Snow. Mother Nature has caught onto a strategy that political outsiders everywhere wish they could figure out: It has beaten government at its own game.
Touché, snow, touché.
So how is snow in Washington like government in Washington but more so? Here are some examples:
1. It Prevents Businesses From Operating Freely.
We will be OPEN all-day Friday and having an All-Day #HappyHour and other snow specials. #blizzard2016. Saturday will play by ear.

— DGS Delicatessen (@DGSDelicatessen) January 21, 2016
2. It Issues A Lot of Empty Threats (A lot).
"As far as snow accumulation maps are concerned," wrote CBS Baltimore on Thursday, "12-24 inches seems likely. Exact numbers remain uncertain at this time as the difference between seeing a few inches of snow or well over a foot … may be less than 100 miles."
3. It Runs Roughshod on the Free Market.
Shelves are empty at grocery stores in DC #blizzard2016 pic.twitter.com/7dTRpiChMt

— Trey Yingst (@TreyYingst) January 21, 2016
4. It Elicits Hyperbole at the Smallest Affront.
6. It Impacts the Ability of Our Children to Get an Education.
7. It Eventually Ends in a Government Shutdown.
The one way snow is not like Washington? It's completely nonpartisan!
Sharon Kehnemui is a digital marketing consultant and founder of Frequency Partners. She is a former senior politics editor for FoxNews.com. Follow her on Twitter @digisharon.