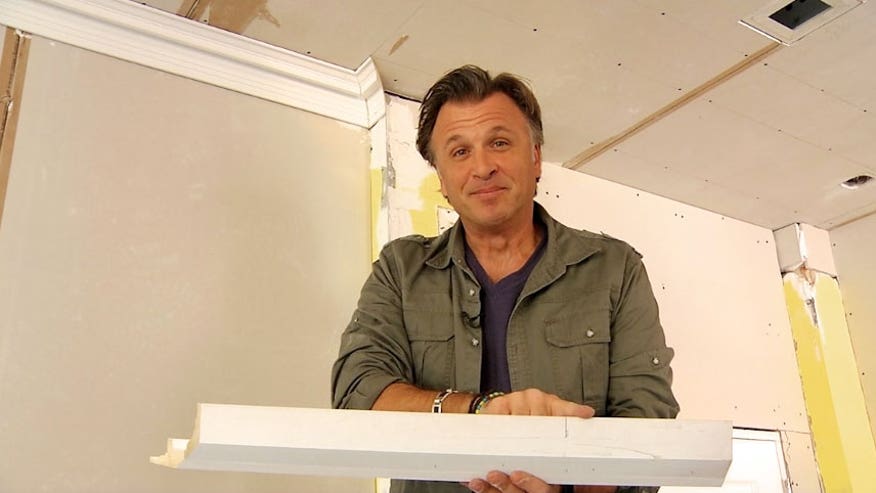 There are many ways to add value to your home.
And installing crown molding is one of the most inexpensive ways to do just that, says DIY Network's "Million Dollar Contractor" Steve Fanuka.
While crown molding is a simple detail that can dramatically change the look of a room, you really need to know what you're doing before attempting it on your own.
Before taking matters into your own hands, check out what expert tips Fanuka had to share.
WHAT YOU NEED:
Crown molding
Miter saw
Coping saw
Nail gun, or a hammer and nails
Paneling glue
Caulk, wood putty, and sandpaper (to smooth imperfections)
Safety goggles
CUTTING CROWN MOLDING:
Before making any cuts, measure the length of the wall, minus a quarter inch. "Establish where your tightest fit is by making sure both backsides of the crown molding lie FLAT against the ceiling and the wall," Fanuka says. Once you have a good fit, mark the wall with a pencil to use as a guide for gluing and nailing the molding down.
When it comes to cutting crown molding, there are three types of cuts you need to know how to make.
Straight cut: Simply place the molding down on your miter box, and chop down straight. When using a miter box, Fanuka says you always want the bottom of the crown molding closest to the saw blade.
Interior cut: A method called "coping" is used to make interior cuts. "Coping is an old school method and has been done for hundreds of years…it lets you scribe the crown molding into a secondary molding giving you a nice, tight, snug fit," Fanuka says. It should always be done on the interior joints of the crown molding because rooms are rarely perfectly square. With a coping saw, remove the thickest part of the crown molding along the edge of the cut. Always hold the coping saw at a slight angle while you're cutting. To avoid breaking the molding, be gentle while you cut. Small mistakes can be fixed with caulking, wood putty, or sandpaper.
Exterior cut: For exterior corners, use a "miter cut", which is a cut made at a 45º angle. It should not be used as an interior cut because as Fanuka explains, "rooms are rarely perfectly square and a 45º angle won't sit perfectly."
AFFIXING THE CROWN MOLDING:
Apply paneling glue along back of crown molding every 6-8 inches.
Using the pencil marking as a guide, affix molding, making sure you have a tight fit.
Secure molding with nail gun. If you don't have a nail gun, a hammer and nails will do. "If it's not tight, it's not done well," Fanuka concludes.