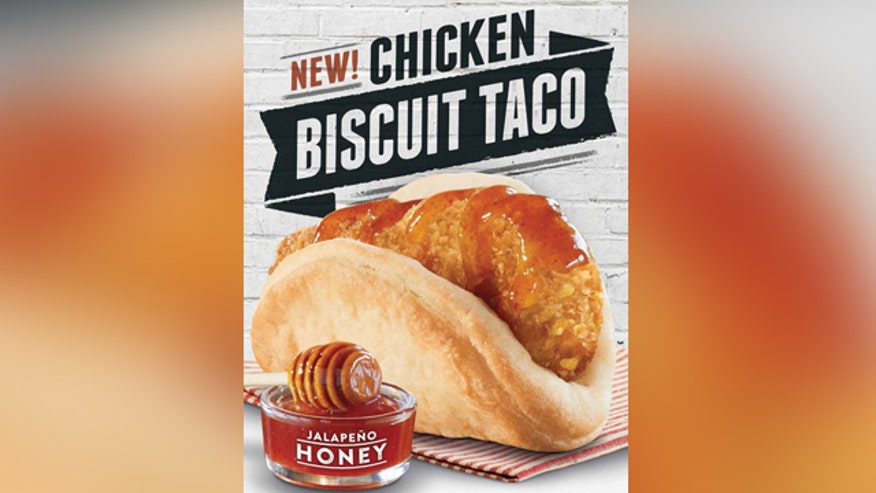 Taco Bell is pulling out all the stops to win the latest fast food breakfast battle. After debuting some unusual treats like the colorful Cap'n Crunch Cereal Bites, the chain announced it would be axing the headline making Waffle Taco.
But its latest breakfast addition is a fluffier take on its previous morning menu items like the AM Crunchwrap. The Biscuit Taco is exactly what it sounds like—a fluffy, buttery biscuit shaped like a taco. It can be filled with traditional breakfast fare like bacon, sausage, and egg. Or, for the more adventurous eaters, a crispy chicken topped with a spicy jalapeno honey.
We got our hands on three new versions of the Biscuit Taco to see if they can conquer classics like the McMuffin.
The sausage, egg and cheese tasted very similar to a morning biscuit sandwich from any fast food joint. Taco Bell's version of a biscuit is a little harder and chewier than a traditional round roll but it's still lighter than a tortilla. The bacon, egg and cheese was a little strange. Instead of strips, the taco chain basically sprinkles bacon bits on top of the scrambled egg, making this is a messy endeavor.
The most unique of the bunch—and the hands down favorite—was the crispy chicken biscuit. The chain has definitely done fried chicken right with a lightly breaded white meat strip topped with a sweet-spiced honey that brings on the heat after a few bites. Plus, we like that this sandwich could be enjoyed any time of day, not just in the morning.
Now that McDonald's may be offering breakfast all day long, let's see if Taco Bell ups the ante with yet another take on a.m. dining.