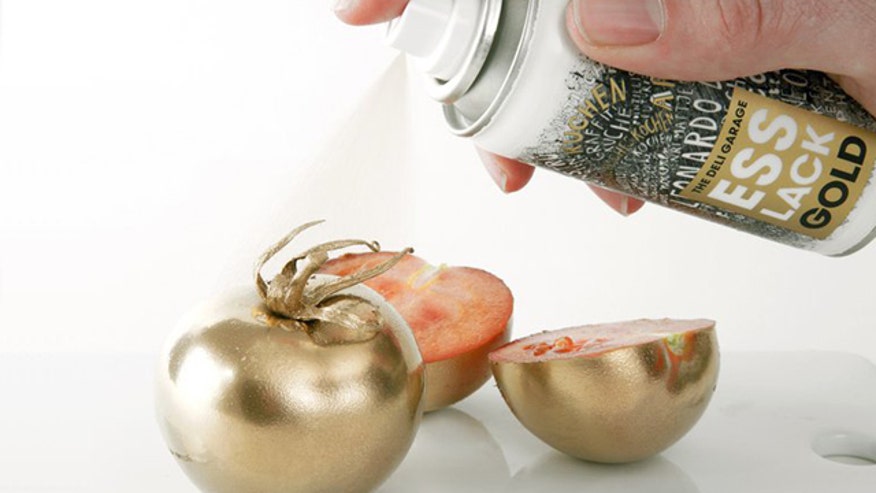 For those who want to add some bling to their food, there's edible spray paint.
With Mardi Gras just around the corner, this can make your food shine—literally. And it won't cost you an arm and a leg.
Chefmaster makes a metallic spray --that comes in three glimmering shades: gold, silver and pearl. Each can is about $10 --a bargain compared to gold leaf which is over $40 for a small packet of 25 sheets. Ingredients include alcohol, the mineral mica --which is considered safe by the FDA because it's used in such small amounts --gold pigment and artificial vanilla flavoring.
And all you need to do is point and shoot.
So we decided to give it a go.
First, there's the application, which we were told works well on all types of food. We tried strawberries, apples, a saltine cracker and cake. With bumpier items, a second spray is needed to evenly cover crevices. Though the Chefmaster product does dry quickly, for novice food decorators it may takes a few practice to get the flow just right.
While the product's can recommends one to three minutes drying time, we found this to be nowhere near enough time to allow the chemical smell and bitter taste to wear off—especially when spritzing on a thicker coat. Because of this, we don't recommend this particular spray for young kids as they may be tempted to spritz right into their mouth which will cause a temporary stinging sensation. We recommend allowing your food to dry for at least 30 minutes before consumption.
So how does edible spray paint actually taste?
On cakes, cookies or pies, it's basically tasteless so adding a little extra sheen to your baked goods. But added to natural fruit or veggies, the spray paint gives off a faint vanilla taste and slightly unpleasant sweet-bitterness that will make you wish you had just left the produce alone. Maybe when it comes to food, all that glitters is not gold.
You can buy Chefmaster at baking supply stores and just one can will last you through dozens of cupcakes.