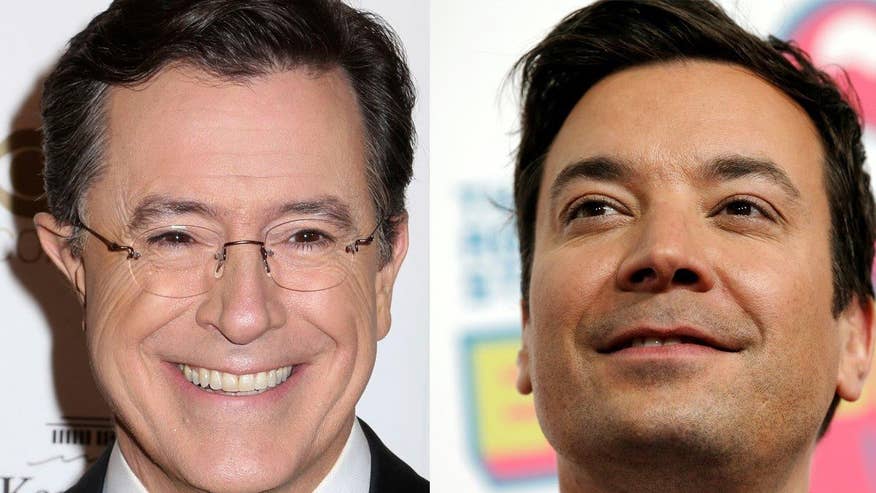 It's official, according to recent Nielsen ratings, Jimmy Fallon and Stephen Colbert are essentially neck-and-neck in the late night ratings war, with Colbert most-recently edging out Fallon by a slim margin for the eighth week in a row.
Over the past several months, Fallon's "Tonight Show" ratings have been falling as fast as Colbert's "Late Show" numbers have been rising, leaving the two virtually tied.
This week, Fallon has averaged 2.7 million total viewers and Colbert has averaged 2.8 million. Still, Fallon has a higher rating with adults in the key demo of 18-49.
Back in February 2016, Fallon was bringing in 3.5 million total viewers, and Colbert was reeling in 2.5 million. By the same time this year, Fallon dropped to 2.9 million, and Colbert powered up to 2.9 million, according to Nielsen's February 2017 report.
Experts say the hosts' tone and recent takes on President Trump are the reason.
"Until Trump became president, Colbert's show was in big trouble. There was even talk of replacing him. But Colbert has beaten out Fallon when it comes to trenchant commentary and sarcasm dealing with the new administration and is pulling in viewers who want to see what Colbert will do next," Joe Saltzman, professor at University of Southern California Annenberg School for Communication and Journalism, told Fox News.
TRUMP BUMP? WHY IS STEPHEN COLBERT SUDDENLY TOPPING JIMMY FALLON IN LATE-NIGHT RATINGS?
Saltzman suggested Fallon has fallen into a kind of Jay Leno-type of predictable format, using impressions and contests between himself and a celebrity guest.
"As the news cycle continues on its breathless pace, Fallon is seeming a little out of it," said Robert J. Thomson, professor of television and popular culture at the S.I. Newhouse School of Public Communications at Syracuse University.
Recently, however, Fallon appears to have added more and more political commentary to the show.
And Colbert hasn't been shy when it comes to skewering Trump on the air.
Nielsen numbers shows Colbert's audience has grown 29 percent compared to the same period last year, while Fallon has lost about 17 percent of his audience each year from the time he started until now.
But Thompson isn't sure Colbert will be able to hold on to his newly acquired viewers.

MERYL STREEP, JIMMY FALLON AND MORE USE GOLDEN GLOBES STAGE TO SLAM TRUMP
"Even though Fallon is the least innovative in many people's eyes, and critics agree, and they said the same thing about Leno, we'll just have to see if Colbert's politcal tack will stick with viewers," Thompson said.
Rebekah Sager is a writer and editor for FoxNews.com. She can be reached at rebekah.sager@foxnews.com. Follow her on Twitter @rebekah_sager.