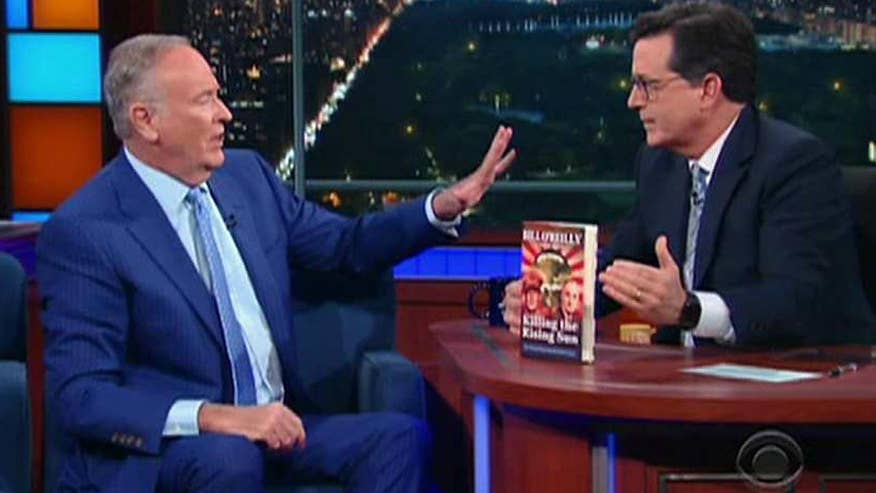 Stephen Colbert's "Late Show" is now the number one late-night talk show on television -- beating out "The Tonight Show with Jimmy Fallon" for the last two weeks in a row.
On Tuesday, the show saw it's highest local rating since local rating since Sept. 22, 2015. And according to Nielsen data, that's not a one-off. "Late Night" averaged a little more than 3 million viewers per night last week, only 134,000 greater than Fallon's average, but the largest margin of victory for Colbert since its premiere in Sept. 2015. Colbert had a lead of just 12,000 more viewers overall the week before.
Mutiple reports attribute Colbert's recent attacks on President Trump with his ratings wins.
Colbert recently lampooned White House adviser Stephen Miller and he also ranted about the White House's list of terror attacks.
"Colbert has been experiencing a bit of a surge as of late, and like 'Saturday Night Live's' resurgence, he has President Trump to thank for that," Billie Gold, vice president and director of programming research at Amplifi U.S., told Variety.
Gold said Fallon may surpass Colbert once again, but the former "Colbert Report" host is certainly seeing an uptick.
"While Fallon will likely take the reign back in future weeks and win the season in all viewer metrics, in this politically-charged climate, Colbert's numbers will definitely be recharged," Gold suggested.
But not everyone is convinced it's Colbert's strong anti-Trump stance that has him winning in the ratings.
"I wouldn't say Fallon is now dethroned. I'd say Colbert's numbers are encouraging. I believe CBS thought he'd take over the late night and he really struggled. It was almost hard to watch in the beginning," said Robert Thompson, director at the Bleier Center for television and popular culture at Syracuse University.
STEPHEN COLBERT BATTLES LAWYERS OVER 'COLBERT REPORT' CHARACTER
"Before we credit using Trump as central material… maybe the material on Trump is getting better or funnier, or maybe people are now discovering it. It's not that drastically different than what he was doing before," Thompson told Fox News.
Last year, Colbert's ratings were low enough that CBS went on record to deny rumors that it was planning to move James Corden, host of "The Late Late Show," into Colbert's job.
In April of 2016, "The Late Show" brought in new leadership, naming "CBS This Morning's" Chris Licht as showrunner, and it's been on an upward ratings movement ever since.
Within its first 12 months, Colbert's show averaged nearly a million viewers less than Fallon's. And Fallon remains the leader in the crucial 18-49 age demographic. But, Colbert's ratings victory is nothing to sneeze at -- especially since CBS has long pitched itself toward older viewers.
STEPHEN COLBERT FAKES INTERVIEW WITH DONALD TRUMP
CBS executives made it clear when they hired Colbert that they expected him to broaden his appeal when moving to the medium of late night on a network, as reported by the New York Times.
Recently, Colbert had former "Daily Show" rival Jon Stewart on his show and he brought back his persona from "The Colbert Report."
"The problem has been Colbert being himself, and now over the last couple of the week's he's been trotting out that old character and his ratings are seeing an upswing because they're finding the sweet spot of the show. And it doesn't hurt that there's such rich material to mine in the Trump presidency," Thompson said.
Fox News reached out to CBS, but they declined to comment.
Rebekah Sager is a writer and editor for FoxNews.com. She can be reached at rebekah.sager@foxnews.com. Follow her on Twitter @rebekah_sager.