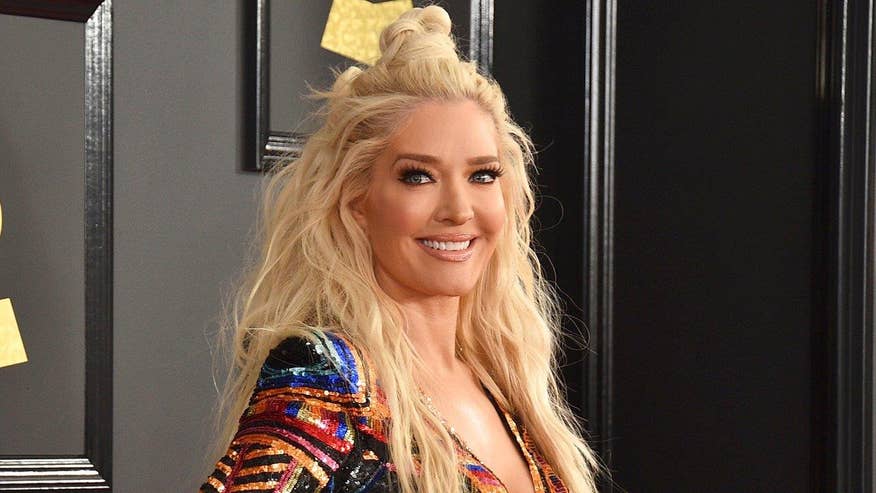 Erika Girardi is getting ready to heat things up in season 24 of "Dancing with the Stars" as her scantily clad alter ego, Erika Jayne.
The 45-year-old star of "Real Housewives of Beverly Hills" will be competing alongside Mr. T and Olympians Simone Biles and Nancy Kerrigan, just to name a few. But so far, Girardi isn't breaking a sweat. As a Billboard-topping pop singer, she's all too familiar with giving audiences what they want and she plans to do just that as she aims to push every limit ABC will let her to flaunt her racy costumes:
'REAL HOUSEWIVES' STAR PROMISES ALL ERIKA JAYNE ON 'DWTS'
Fox News: What initially inspired you to create this character known as Erika Jayne?
Erika Girardi: I started performing as Erika Jayne in 2007. And I think there's a little bit of Erika Jayne in all of us. There's always an over-the-top performance that's part of everyone's life. Erika Jayne is simply that: glitz, glamour, fun, sex, love and escape. She's all about pushing limits, having a good time and delivering lots of smiles. But really at the end of the day, she wants to have fun.
Fox News: You mentioned how you were going to be all Erika Jayne and zero Erika Girardi. Could you tell us more about that?
Girardi: Well listen, I think when it comes to the ballroom it's all fabulosity. It's the perfect place for Erika Jayne's over-the-top persona. It's costumes, hair, makeup, performance, dance and passion — that's what's it all about for Erika Jayne.
Fox News: You've had cameras follow you all throughout 'RHOBH.' What made you say yes to having more eyes on you in a dance competition series?
Girardi: I think it's a great opportunity and a lot of fun, quite honestly. 'Dancing with the Stars' is a great way to take Erika Jayne into more people's homes so she can have a good time and show them what she's all about. It's also a great opportunity for me to step out of my comfort zone to perform and learn something new every week.
Fox News: Why should the other competitors be worried about you?
Girardi: Honestly, I don't know if anybody should be worried about anyone. We're all there to do our best and whatever happens, happens. I do think I bring a certain amount of energy, fire and sex to the competition and you know, that's what I'm known for.
FOLLOW US ON FACEBOOK FOR MORE ENTERTAINMENT NEWS
Fox News: You also mentioned that when it comes to the costumes, you're ready to push every limit ABC will allow. What have been some of your most outrageous or daring pieces that you've worn for a performance?
Girardi: My costumes and ballroom costumes are kind of close. My costumes are sheer, illusion catsuits with crystals over the important parts. They really let the feminine form show. When you look at ballroom costumes, they're very sexy and very feminine. That's up my alley.
Fox News: You previously said how you didn't think you would ever get a major label deal because you felt the music business was for 20 year olds. Do you still believe that?
Girardi: I think it is. I don't think anybody will take you seriously if you went ahead and knocked on their door in your 40s. No. They want to take young acts and groom them to their own image because that's where the money is.
ERIKA GIRARDI DOESN'T HAVE TIME FOR ERIKA JAYNE HATERS
Fox News: How do you handle the critics who may feel that Erika Jayne is too sexy for mainstream TV?
Girardi: I don't know what to say about that, except perhaps they're a little boring themselves. No. You can never be too sexy for mainstream television.
Fox News: How do you balance being both a supportive wife and this larger than life character?
Girardi: I think it's [all about] communication. It's key. We try to spend as much time as possible [together]. And his schedule is two times busier than mine! He's running his firm and they're incredibly busy. It's not like he's at home waiting for me. I'm trying to catch up with [him]! Tom is the most supportive partner a woman could ever ask for. He is so proud and just so happy for me. I'm really grateful for that.
Fox News: What have you enjoyed the most about being part of 'RHOBH?'
Girardi: 'Real Housewives' has been a lot of fun, and of course, trying at times. But it's actually nice to get to know these women. They all have great parts to them and sometimes we don't see that about each other, but it's been a great way for me to bring in a level of awareness to what I do as performer… I could live without a little bit of the backbiting. Some of it is just a little annoying.
Fox News: It may be too soon to tell, but what are your thoughts about a possible season 8 of 'Real Housewives?'
Girardi: We'll have to see! Who knows? They may call and want me back, or they may not. You never know.