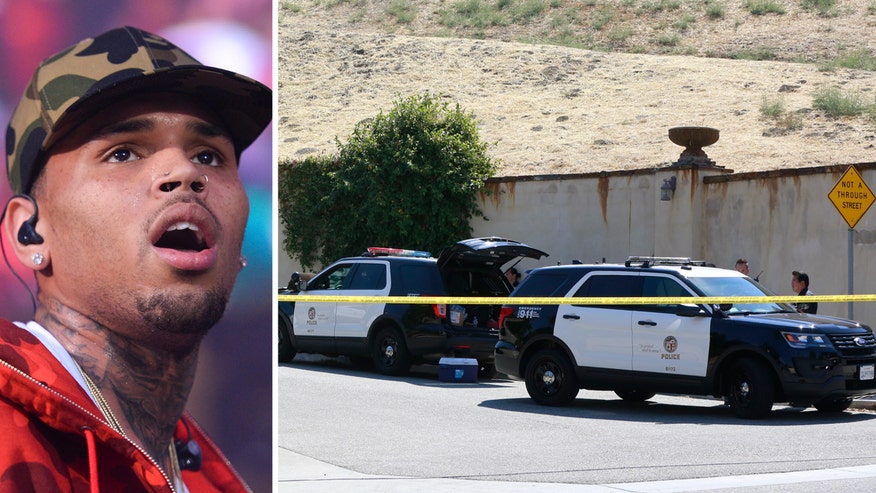 After accusing Chris Brown of threatening her with a gun, leading to his arrest on charges of assault with a deadly weapon, Baylee Curran is opening up to ET about her account of what happened at the singer's Tarzana, California home late Monday night.
The former Miss California contestant tells ET's Jen Peros that she went to Brown's house on Monday night to talk to him about potentially being cast in his next music video. Curran says the two had met before, but she wanted to "refresh his memory." She explains that the night was "more casual than expected." She added that she and some friends were "talking a little business" when things took a turn.
"I went into the backyard and then, when I came back into the house, there was a new male in the home and he was showcasing these diamond bracelets and watches and diamond necklaces," Curran explains. "At that point, Chris' friend -- and I don't know who he was to Chris -- saw me looking at them and got a little wary, I guess? Sort of cursing and screaming at me and calling me names saying 'Get the f--k away from the diamonds. Get the f--k back outside.'"
RELATED: Chris Brown Released From Jail After Posting $250,000 Bail
"Chris did not see me admiring the jewelry," continues Curran, who maintains that she was "simply looking" at the diamonds. "It was his friends who originally said 'Get away'... But then, Chris pulled out his gun and said 'Get the f--k out'... like, pointing that way and pointing it in my face and saying, 'So sick of all you people, I am going to blow your head off.' I don't really remember, but he was threatening me with the gun in my face."
Curran says that she and her friends attempted to leave, but were stopped by some of Brown's friends, who asked her to sign a nondisclosure agreement before she could get her cell phone back.
"I am like, 'I don't think so, I am not signing anything.' So I then took the phone from him and made a run for it," Curran recalls. "[Brown's] two friends were following me down the driveway as I am like, running down the driveway and then I turn left on the street. They continued to follow me on foot, and then I run faster so that I can kind of lose them."
NEWS: Chris Brown Arrested On Suspicion of Assault With a Deadly Weapon After Police Serve Warrant
Brown has maintained his innocence, posting several Instagram videos on Tuesday where he claimed to be asleep when the police arrived at his house. He was arrested on Tuesday afternoon on suspicion of assault with a deadly weapon after the LAPD served a search warrant for his house and was booked and released Tuesday night after posting $250,000 in bail.
"Thanks to everyone for their support and well wishes. Chris is out and well," tweeted Brown's lawyer, Mark Geragos, late Tuesday. "The allegations against him are demonstrably false #TeamBreezy."
Thanks to everyone for their support and well wishes. Chris is out and well. The allegations against him are demonstrably false #TeamBreezy

— Mark Geragos (@markgeragos) August 31, 2016
WATCH: Chris Brown Gets Emotional in New Documentary Trailer, Talks Assault on Rihanna: 'I Felt Like a F**king Monster'
Curran says that she was still "in shock" from the events of the evening but that she felt "validated" by Brown's arrest.
"I'm scared for my life. I'm terrified," she explains when asked why she filed a police report. "I hope they can provide protection. I think the world kind of needs to know that this stuff does happen. A lot of violence is going on in the world right now and I think that we all kind of need to wake up to it and reunite and just share the love, I guess."
As far as pressing charges against the singer, Curran says she is "still debating," but added of Brown, "I just hope he gets whatever he deserves."
WATCH: Chris Brown Responds to Assault Allegations, Slams 'Crazy Individuals Who Keep Lying on My Name'