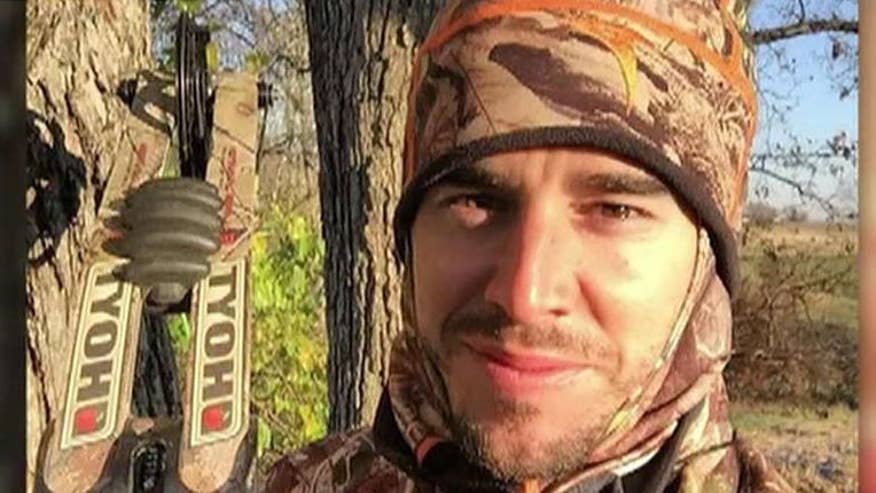 The wife of Backroad Anthem singer Craig Strickland said Thursday the search area for her missing husband has been cut in half as authorities found footprints, paw prints and other marks on the boat Strickland, his friend and dog used on Sunday on their hunting trip.
Helen Strickland offered the updates through Twitter. She also said Friday more crews were expected to join the search on Saturday.
Boat marks, foot prints & dog prints were found today. No other sign of #CraigStrickland, but this cuts the amount of search area by 50%.

— Helen Strickland (@HelenWisner) January 1, 2016
Sorry for any confusion. The boat marks, footprints, and paw prints were from Sunday when #CraigStrickland & Chase first entered the water.

— Helen Strickland (@HelenWisner) January 1, 2016
The search has been more confined today. Approval has been given for more professional crews to join tomorrow. #CraigStrickland

— Helen Strickland (@HelenWisner) January 1, 2016
Craig Strickland, 29, disappeared during a duck hunting trip on Sunday. Strickland and his friend Chase Morland traveled into severe weather before they were reported missing. Only Morland's body was found during the search.
Authorities have combed the massive Kaw Lake, which nearly stretches into Kansas, in attempts to find Strickland, of Springdale, Arkansas. Strickland is the lead singer of the Arkansas-based country-rock band Backroad Anthem. The band shared a Facebook post on Wednesday, stating they were still praying for Strickland's safe return.
Helen Strickland praised the Kay County Sheriff's Office on Friday in an interview with 40/29 News.
"The canine units (and) the Kay County Sheriff's Department have been so wonderful to us. The Oklahoma Highway Patrol having gone above and beyond, especially going through this struggle, is the most comforting thing you can have," she said.
The expansive terrain, coupled with the severe storms that pounded the area over the weekend, hampered rescue efforts, said Oklahoma Highway Patrol Capt. Paul Timmons. The severe rains and flooding are blamed for at least five deaths in Oklahoma and more than 100 injuries, according to state health officials. On Monday, Gov. Mary Fallin declared a state of emergency after blizzard conditions affected parts of the state and heavy rains fell.
Kay County Sheriff Everette VanHoesen said the enormity and unpredictable nature of the lake catches many inexperienced boaters by surprise.
"It's a big lake, and when we have high winds, the lake will get whitecapped; the waves get pretty big," VanHoesen said Tuesday. "I understand these men were avid hunters. They knew what they were doing, but sometimes the size of our lake really tricks them."
A message posted to Morland's Twitter account before the pair set out read: "In case we don't come back, @BackroadCRAIG and I are going right through Winter Storm Goliath to kill ducks in Oklahoma. #IntoTheStorm."
Authorities have said they plan on continuing their search until Craig Strickland is found.
The Associated Press contributed to this report.