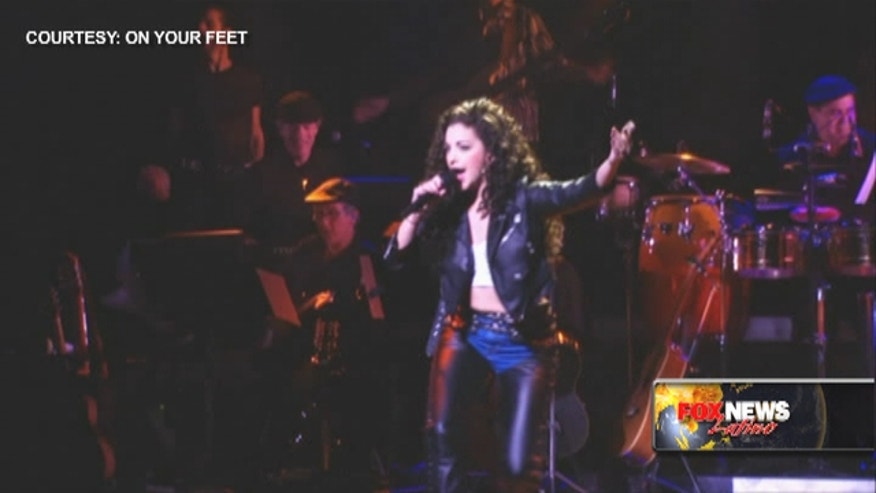 New York – The Great White Way was on its feet for a Cuban party like no other.
The electrifying and infectious Broadway musical, "On Your Feet!," about the king and queen of Latin music, Gloria and Emilio Estefan, premiered Thursday to a star-studded crowd who could only praise the Cuban-American couple for making history.
"It's been a beautiful journey," Gloria Estefan, 58, told Fox News Latino on the red carpet after the premiere at the Marriott Marquis Theater. "It's been one of love and pain, but tonight on that stage, every single person gave their love, gave their story because it's not just about Emilio and me. It's the story of every Latino on that stage."
The Grammy-winning singer touted the show's all-Latino cast – a first for Broadway – adding that she hopes it's something that inspires others.
"We are the ones who are shaping this particular play … [but] I hope that it's something that everyone, wherever they're from, can identify with in a human way," Gloria said. "It's celebratory. We want to take the audience on a journey that, at the end, they jump up and say, 'Oh, my God! I'm happy to be alive and loving music and being human!' To me, there is nothing better than that."
Emilio Estefan said getting their love story from idea to the stage was itself an achievement.
"We are making history," he told FNL. "We are representing the American Dream and diversity, and I think that's a great accomplishment."
The couple's daughter, Emily, a musician in her own right, said it's mind-blowing that her parent's love story is the topic of a Broadway show.
"They can't believe [that their story is on the stage], so it's hard for me to believe it," she told FNL.
The 20-year-old, who composed "If I Never Got to Tell You" with her mom – the only song original to the show – paid tribute to her mom by sporting the famous black leather chaps she wore in the video for "1-2-3."
Emily Estafan said her mother told her, "A, I never know how I fit in those. B, I don't know how they convinced me to get them."
Ana Villafañe, who stars as Gloria Estefan and gives an uncanny interpretation of the pop singer, told FNL that being on the stage as her idol was a dream come true.
"It's everything that I ever dream about as a little kid. It's everything that I could have hoped for, and it's so fulfilling. We are having a blast being on that stage. Tonight was just electric," she said. "It's a story that resonates with me. It's a story that I think is important. It's a story about love. It's a story about culture and passion, and it's an honest story that I am proud to tell."
The Miami-born actress said she definitely feels the pressure to showcase the Estefan's life and legacy in the truest way, but that it's an honor to have the power couple supporting and encouraging the cast every step of the way.
"It feels incredible to have them watching, because they validate my every move," Villafañe said. "It is a little bit daunting, because it's Gloria Estefan, and I am Ana Villafañe – like, what? That doesn't really match up. To have them there is a much-needed pressure, and they are just so loving and so generous."
Villafañe's co-star Josh Segarra called the night "electric," and said he could not be more proud about being part of the all-Latino cast.
"I love being part of it," he told FNL. "When that curtain goes up, and you see 29 Latinos on that stage, it means the world."
Like us on Facebook
Follow us on Twitter & Instagram
Lucia I. Suarez Sang is a Reporter for FoxNews.com.
Follow her on Twitter @luciasuarezsang