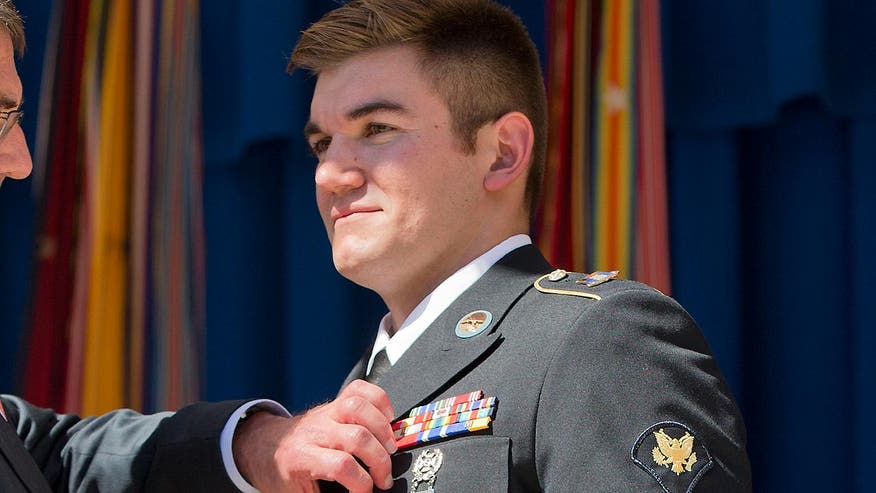 LOS ANGELES – "Dancing with the Stars" competitor Alek Skarlatos has been touched by terror twice—but sadly, the train hero wasn't there to help his Roseburg, Oregon school when a shooter murdered nine people on Thursday.
The military man who shot to fame after disarming a terrorist on a European train with his two buddies had attended Umpqua Community College. And on Monday's edition of "DWTS," cameras captured Skarlatos, a member of the Oregon National Guard, learning the bad news in rehearsal last week and frantically calling friends and family.
Later, he paid a sad visit to Roseburg, visiting his former college, attending a candlelight vigil, and checking in with loved ones.
When asked by FOX411 what he would have done if he'd been at the school during the shooting, Skarlatos replied, "I would have shot him, hopefully, but honestly, you don't know what you're going to do in a situation like that until you're there."
Skarlatos, whose fellow military friend Spencer Stone and college student buddy Anthony Sadler all worked together to tackle and tie up the train terrorist in August, noted, "Even on the train, I don't know if I would have acted the same way if I didn't have Spencer next to me."
Skarlatos said that so far, he hasn't spoken to Chris Mintz, the Army veteran who is being hailed as a hero after he tried to block the gunman from entering his classroom—and then was shot multiple times.
"I tried before we left [Roseburg] but he's just in too much pain still and trying to concentrate on recovering and I understand where he's coming from," Skarlatos said of his fellow hero, who is hospitalized in Oregon. "But when I go back, I'm definitely going to go shake his hand and look him in the eye and tell him he did a good job."
Skarlatos said "it was almost surreal going back under those circumstances and seeing the same town that I remember but getting a total different feel from it. I mean, they're still recovering. It definitely was a shock to everybody. You can't really understand until it happens but it's just crazy."
With his partner Arnold by his side, Skarlatos said, "It's been a tough week, for us and obviously for Roseburg. We've just been trying our best to concentrate on dancing and it's been a really great outlet to get away from everything."
Skarlatos said although none of his friends were injured, "of course in a town of 20,000, everybody's going to know at least somebody who was killed or wounded….they've pulled together beautifully. There's a hashtag going around, roseburgstrong. That's so applicable."
Skarlatos added of Roseburg, where, until recently, he was living in his father's basement, "You don't expect anything to happen there. It's a small town. If it could happen there, it could happen anywhere."