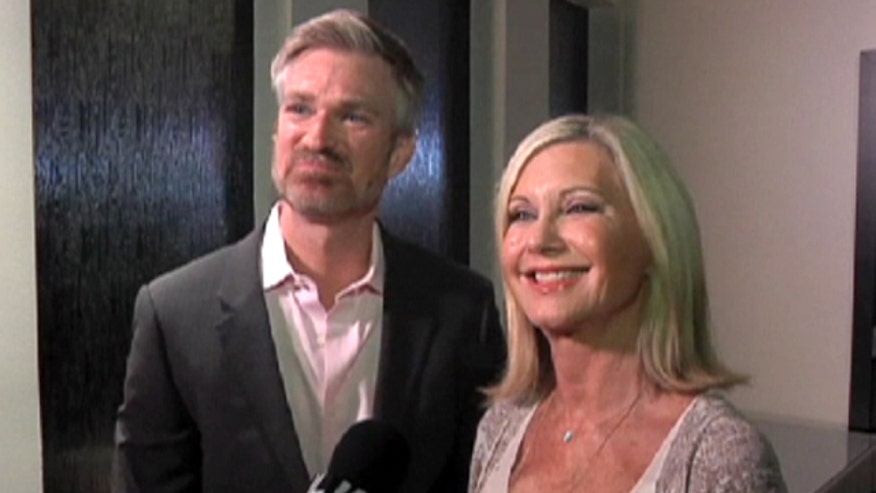 LAS VEGAS – Superstar Olivia Newton-John's ever-expanding career is getting even sweeter.
The "Grease" star is already a best-selling singer, esteemed Hollywood actress, the founder of a cancer foundation, a successful Vegas headliner—and now she's selling her own brand of wine.
Newton-John, along with her nephew Emerson Newton-John, is introducing the Pink and Blue for Two label-- and it's for a good cause. Twenty percent of the proceeds will go towards charity—10 percent to Olivia's cancer foundation and the other 10 percent to the Pink and Blue for Two campaign.
PB42 challenges men and women to schedule a breast and prostate cancer screening together. Olivia and her nephew say men are just as prone to the disease as woman.
"It's fantastic that there's so much attention put on breast cancer but the guys need a little love too,' Emerson told FOX411.
The wine comes from a private label in Sonoma, California. But it's not just Olivia's name on the label—she personally helped in creating it.
"Merlot I love and I actually chose it," Olivia said. "They sent me a lot of samples and I chose that one."
The wine is now being sold at Caesar's properties in Vegas and fans who purchase it in Sin City can get it with a personal touch from the star.
"A chardonnay and a merlot with a glass with my name on it, if you happen to want that," Olivia joked.
For more information on the cancer awareness campaign or Olivia's wine visit www.pb42.org.
Matt Finn is a Fox News correspondent based in the Chicago bureau. Follow him on Twitter: @MattFinnFNC