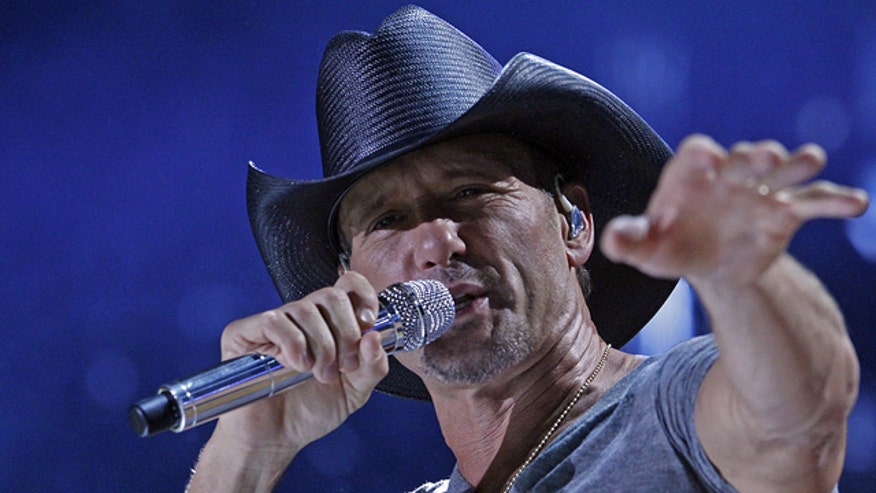 Tim McGraw defended his decision to headline a a concert to benefit a Sandy Hook group after gun advocate groups called the event a "gun control fundraiser."
"Let me be clear regarding the concert for Sandy Hook given much of the erroneous reporting thus far," McGraw told FOX411 in a statement. "As a gun owner, I support gun ownership. I also believe that with gun ownership comes the responsibility of education and safety – most certainly when it relates to what we value most, our children. I can't imagine anyone who disagrees with that."
Fellow country singer Billy Currington withdrew from the Connecticut show because he's "never been one to take on controversial issues."
Gun rights advocates took to Facebook and Twitter, calling McGraw a hypocrite for appearing in the event that will benefit Sandy Hook Promise, which seeks to protect children from gun violence.
@TheTimMcGraw @sandyhook @XFINITYTheatre Sad that you've chosen to turn your back on American Rights. Please take off that hat.

— Thom Clark (@Wanderer711) April 14, 2015
@TheTimMcGraw @Seattle_Cowboy @sandyhook @XFINITYTheatre I bought my last CD and will not listen to this guy again! Tim McGraw

— Born Free (@MrMac6489) April 16, 2015
@jenilynn1010 @TheTimMcGraw @sandyhook @XFINITYTheatre @chasebryant @billycurrington Boycott the hypocrite!

— beedogz (@beedogzz) April 16, 2015
@TheTimMcGraw Do you not support the United States Constitution in its entirety? The constitution includes the Bill of Rights. All or none

— Spike, Abby and Emma (@Spike_Emma) April 14, 2015
However, others were supportive of the singer:
Thank you @TheTimMcGraw! What you're doing is awesome! I'm not a country fan, but def a fan of yours now!! @moderatemama @sandyhook

— KHARY PENEBAKER (@kharyp) April 13, 2015
@Mark_B_2013 it's not about gun control. It's to help the families that lost children that day. 1 of his friends lost his little boy. The

— Robin Meshelle (@Cajuarobin) April 15, 2015
@kharyp @TheTimMcGraw @moderatemama @sandyhook Me too...you have a new fan Tim.

— Wendy (@Wendy61342557) April 16, 2015
McGraw become involved with the organization through his fiddle player Dean Brown, who is close friends with the group's advocacy director Mark Barden who lost his son in the shooting.
"Through a personal connection, I saw first-hand how the Sandy Hook tragedy affected families and I felt their pain," McGraw added. "The concert is meant to do something good for a community that is recovering."
The "Shotgun Rider" singer's set to perform at the XFINITY Theatre in Hartford, Conn., on July 17.
In December 2012, 20 first-graders and six educators were fatally shot in Newtown.
FOX411's Sasha Bogursky and the Associated Press contributed to this report.