The "Fast and Furious" films are known for their nonstop, fast-moving fight scenes and outrageous driving. And "Furious 7," out in theaters Friday, is no exception.
But for Jordana Brewster, the next installment of the highly successful franchise is more than the action and the cars – it's about family.
"Everyone had a history together," she told Fox News Latino recently. "When we started filming, it was almost like second nature."
Returning to Los Angeles and the Toretto home made it even much more special.
"Everyone has a personal connection (to that home)," she said.
In "Furious 7," the Brazilian-American actress reprises her role as Mia Toretto, who is now a mother to a toddler named Jack. It was this new aspect of her character – as well as the fact that Brewster was filming TNT's "Dallas" at the same time – that limited her time on screen.
"I did miss (filming the action scenes)," she said. "Mia's trajectory changed – she became a mom … but I did miss it."
Directed by James Wan, "Furious 7" plays off the usual action scenes with some unprecedented car stunts that include a cargo plane dropping parachute-equipped cars onto a curving road in the Caucasus Mountains and an insane sequence with a sports car crashing through plate-glass windows while hopping between skyscrapers in Abu Dhabi.
Some of the hottest action doesn't even involve cars.
Michelle Rodriguez's Letty, the lone female driver in the crew, comes to blows – in a gown and heels, no less – with an all-women security team led by MMA fighter Ronda Rousey.
"I will leave that fight to Michelle," said Brewster with a laugh. "She got hurt, so I will leave it all to Michelle."
The movie stars franchise veterans Vin Diesel, Ludacris, Tyrese Gibson and the late Paul Walker, but also includes a few newcomers, like bachatero Romeo Santos in his feature film debut.
"He was so cool. I mean, he's huge," she said. "He had done a concert the night prior and it was doing another that night. It was his first acting job."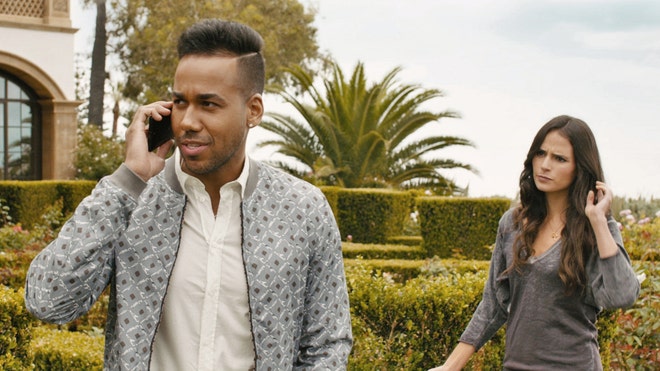 Romeo Santos and Brewster in 'Furious 7.' (Photo: Universal Pictures)
However, Walker's death more than a year ago dominates the film – for both fans and fellow cast members.
The film is dedicated to the actor and concludes with a montage of images of him from the five previous films.
Dwayne "The Rock" Johnson, who plays CIA agent Lou Hobbs, told the "Today" show recently that the late actor is "beautifully honored" at the end.
"It was an opportunity for us to try and find a balance between entertaining the audience but also paying a respectful tribute to him," he said.
Throughout "Furious 7," there are allusions to his death that bring his death home for the audience. One of those scenes is between Brewster's Mia and Walker's Brian, right before the crew's last mission.
He tells her that if she doesn't hear from him afterward she should "move on."
Brewster, who acknowledged that returning to the set following his death in 2013 was "horrible," recalled with fondness that scene.
"It brings their relationship back to the start of the series," she said, careful not to give too much away. "It was my favorite scene."
"Furious 7" hits theaters nationwide on Friday.
Like us on Facebook
Follow us on Twitter & Instagram
Lucia I. Suarez Sang is a Reporter for FoxNews.com.
Follow her on Twitter @luciasuarezsang