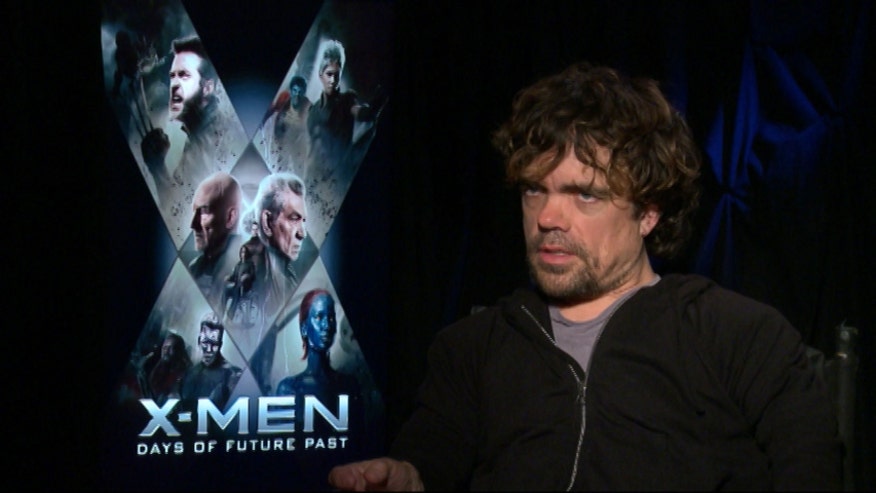 Here's what everybody's buzzing about:
Wondering what Jessica Alba's been up to lately? Well, according to the cover of Entertainment Weekly's Summer Must List issue, she's been seductively emerging from pools with perfect hair and makeup (photo below).
Alright, comic book fans: The latest "X-Men" film is finally here. For those of you not in line at your local cineplex, get your fix in the video above, featuring interviews with "Days of Future Past" stars Peter Dinklage, Patrick Stewart and Ellen Page.
Molly Ringwald has been cast in the upcoming "Jem and the Holograms" movie, which is fitting, because she's already got the dances down:
Lady Gaga seemed to be taking her wholesome cues from Taylor Swift on Wednesday, popping in for a surprise visit at the Gillette Childrens Specialty Healthcare center in Minnesota. Thankfully, she didn't bring any of her nightmare-inducing stage props.
Lindsay Lohan got her act together long enough to finally put some clothes on during her visit to Cannes. And look! It's short and shiny!
"Wheel of Fortune" host Pat Sajak took his opinions on global warming to Twitter, where he labeled "global warming alarmists" as racist. Now, he seems to be backtracking, saying he was simply parodying "the name-calling directed at climate skeptics."
Irina Shayk, Alessandra Ambrosio, Rosie Huntington-Whitely and Heidi Klum stepped out for a yacht party during the Cannes Film Festival, and they looked just about as fantastic as you'd expect four supermodels in evening wear to look.
The "Man of Steel" sequel finally has a name. It's called "Batman v Superman: Dawn of Justice," and no, to the best of our knowledge, the film has not been reworked into a courtroom drama starring Richard Gere or Tom Hanks.
Neil Patrick Harris told Stephen Colbert that he wants to be "the next Ed Sullivan." But that's impossible, because nobody could have the same magnetic charm and undeniable charisma as the Ed Sullivan.
On Wednesday night, "American Idol" crowned Caleb Johnson as its latest winner. If you don't know who that is, imagine Meat Loaf, but younger, and maybe a little less meaty.
The real shocker on "Idol" was watching Ryan Seacrest make his singing debut with '80s balladeer Richard Marx. "Finally!" said those watching at home.
Ryan Seacrest & Richard Marx - American Idol 13... by IdolxMuzic
Somebody dug some old photos of Angelina Jolie during her school years. Let's just say that anyone with a better high school picture can cast the first stone. We're gracefully bowing out on this one.
After five days, Kendra Wilkinson and Hank Baskett have finally decided to name their newborn daughter Alijah — as opposed to "Hankette," which is what we were betting on.
Kendall Jenner celebrated reaching 10 million instagram followers with the saddest attempt at twerking we've seen (below) since tried it.
Renee Zellweger's boyfriend Doyle Bramhall II really likes posing for the paparazzi. Dude's wearing his very best scarf and everything!
And finally, Krispy Kreme has fried up the world's most expensive doughnut ($1,682), decorated with edible diamonds and filled with Dom Perignon jelly. Head out to London if you're interesting in purchasing one … or, you know, just stroll down to your local Krispy Kreme and wait for them to start handing out free doughnuts when their "Hot Now" sign is lit up.