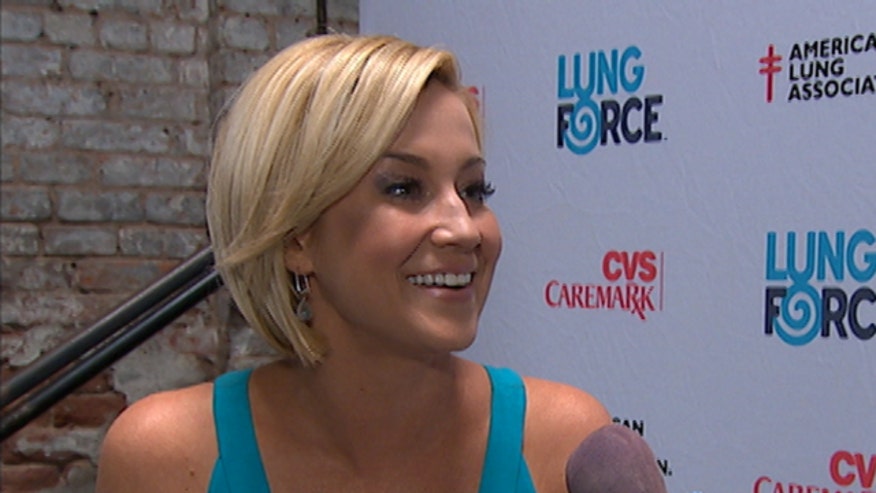 Here's today's dirt:
FOX's Michael Tammero recently got the chance to chat with former "American Idol" contestant Kellie Pickler at a charity event, where she revealed her favorite current "Idol" judge. Hear who she chose (and why) in the video above.
Not only did Carrie Underwood and Miranda Lambert perform together at the Billboard Awards in Vegas on Sunday (below), but they also apparently coordinated their low-cut dresses on the red carpet (also below).
Miranda Lambert with Carrie Underwood ~ 2014... by HumanSlinky
Kelly Rowland of Destiny's Child, also in attendance at the Billboard awards, tried to one-up Carrie and Miranda by barely wearing a top:
Not to take anything away from the ladies above, but Shania Twain — who presented the award for Top Rock Album — was maybe the most stunning celeb in attendance. And she's got a good 15 years on Carrie, Miranda and Kelly.
Michael Jackson performed as a hologram at the Billboard awards, because death can't stop the King of Pop('s estate from dragging his likeness out to make a few bucks).
Beyonce really wants us to gloss over her sister's elevator outburst, and she's hoping that a few happy pictures of herself and Solange in New Orleans will accomplish that. (It won't.)
A source has revealed to Us Weekly that Cameron Diaz is dating Benji Madden of the pop punk band Good Charlotte, who you might have cared about if you were between the ages of 13 and 15 in 2001.
While launching her new animal charity organization at Cannes, former "Baywatch" actress Pamela Anderson revealed a horrible history of sexual abuse.
Also during the Cannes Film Festival, some knucklehead tried to crawl under America Ferrara's dress while she was walking down the red carpet. He was promptly dragged away by security, because nobody — and we mean nobody — treats the former star of "Ugly Betty" like that in France.
Kanye West revealed that he and Kim chose Florence as their wedding locale because, as he says, "I think that our daughter North was conceived here among the Renaissance masterpieces." So think about that the next time you're strolling around the Palazzo Vecchio.
Kendall Jenner introduced Australian band 5 Seconds of Summer at the ceremony, or at least she tried to, but it sounded like she was about to say "One Direction," probably because Kendall — much like the rest of us — can't differentiate between groups of pretty-haired men who make unoffensive music.
And, OK, Kim Kardashian must know that when she wears a sheer top to the airport, we're totally going to see nipples once cameras start flashing, right?
Upon realizing that they were standing on balconies opposite from each another in New Orleans, Brad Pitt and Matthew McConaughey furthered their bromance by sharing beers from across the street.
Mick Jagger's granddaughter, Assisi Jackson, gave birth to a baby girl over the weekend, effectively making Jagger a great-grandfather at age 70.
Johnny Depp will be playing infamous Boston mobster Whitey Bulger in the upcoming film "Black Mass," so naturally, he adopted a fake balding head of blond hair to differentiate this mobster from the ones he's played in "Donnie Brasco," "Public Enemies" and "Once Upon a Time in Mexico," and maybe "Charlie and the Chocolate Factory," because come on, you just know Willy Wonka was into some crazy stuff.
Last week, Taylor Swift surprised a group of 4th-grade students during their field trip to the Country Music Hall of Fame and Museum. Her performance of "We Are Never Ever Getting Back Together" probably cut into their valuable learning time, but hey, meeting Taylor Swift is a lot more fun than memorizing the parts of a harmonica, any day.
And finally, Disneyland has hiked up ticket prices to $96 bucks apiece, because they know your kids won't stop pestering you until you take them to meet a man in a pantsless duck costume that will probably scare the bejesus out of them.