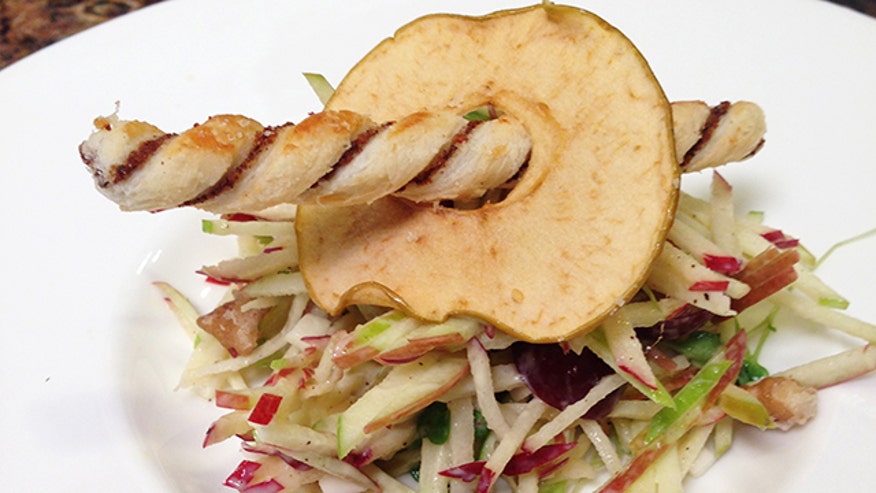 Here's what we're dealing with, people:
Rihanna was literally butt-naked for a photoshoot in West Hollywood earlier this week, wearing nothing but a teeny top and tan lines. Maybe don't look at this one in front of the boss.
Love a good Waldorf salad? You're in luck, because the Waldorf Astoria's executive chef just gave us for their signature dish. Watch the video above and whip a few up for dinner tonight.
On Thursday, Wayne Coyne of the Flaming Lips shared a snippet of his and Miley Cyrus' upcoming cover of "A Day in the Life" by the Beatles. It's too early to give a real review, but c'mon. You just know this is going to be pointless.
In other Miley news, Cyrus uploaded a couple of "Throwback Thursday" pictures to her Instagram account, reminding of that time she went topless and got a haircut in 2012. Ah, memories!
The Social Security Administration reported a spike in the number of babies being named "Khaleesi" after a charater on HBO's "Game of Thrones." Yet curiously, after years of success on the same channel, nobody's naming their kid "Arli$$."
Nirvana, Peter Gabriel, Hall & Oates and Cat Stevens were inducted into the Rock and Roll Hall of Fame on Thursday night, as was KISS, who somewhat hypocritically accepted their award graciously after putting up such a stupid fuss.
Kate Hudson showed off her abs (and her outie bellybutton) during a lunch date with Reese Witherspoon in Los Angeles.
Beause she clearly doesn't know what the heck to do now that longtime costumer Bob Mackie is gone, Cher appeared at a concert in Boston wearing little more than a sheer bodysuit and heart-shaped pasties.
Beyonce's fans have accused her of Photoshopping a thigh gap into one of her latest Tumblr pics — specifically, this photo of her golfing in the Dominican Republic. But really, this kind of behavior is pretty much par for the course these days. (Get it!?! Do ya get it?)
A woman in las Vegas threw a shoe at Hilary Clinton during a speaking engagement, just narrowly missing Hilary's head. Fortunately, Hilary quickly recovered and managed to trash-talk the woman's throwing skills, much to the amusement of the crowd.
ABC US News | ABC Business News
In the wake of their nude(ish) photo scandal, Demi Lovato got really pissed off at The Daily Beast for calling boyfriend Wilmer Valderrama "so culturally irrelevant he relies on the commodification of his young girlfriend's body in order to re-enter the current celebrity conversation."
Selena Gomez has reportedly fired her management team of seven years — who also happen to be her mother and stepfather.
Katherine Heigl is suing NY-area chain Duane Reade to the tune of $6 million, all because they tweeted a photo of her coming out of one of their drugstores. Perhaps she thinks that we're all going to point and laugh at her favorite brand of toothpaste? (It's Tom's, isn't it? We get it's Tom's!)
Snooki debuted her baby bump at an MTV Awards press event just six days after announcing her pregnancy. We can only wonder whether the little guy is already fist-pumping away in the womb.
A production assistant from Comedy Central's "Tosh.0" was mistakenly shot and killed by Los Angeles police, who mistook him for a criminal from a nearby hostage situation.
For those of you whose original copy has been destroyed, lost, or somehow disintegrated beneath your childhood mattress, Playboy has reprinted its inaugural 1953 issue featuring Marilyn Monroe.
And finally, the executives at Cheetos and Doritos presumably threw up their hands and said, "Heck, our customers will eat anything we throw at them — let's save a few bucks and package both of our cheesy snacks in the same bag." Because that's exactly what they did.