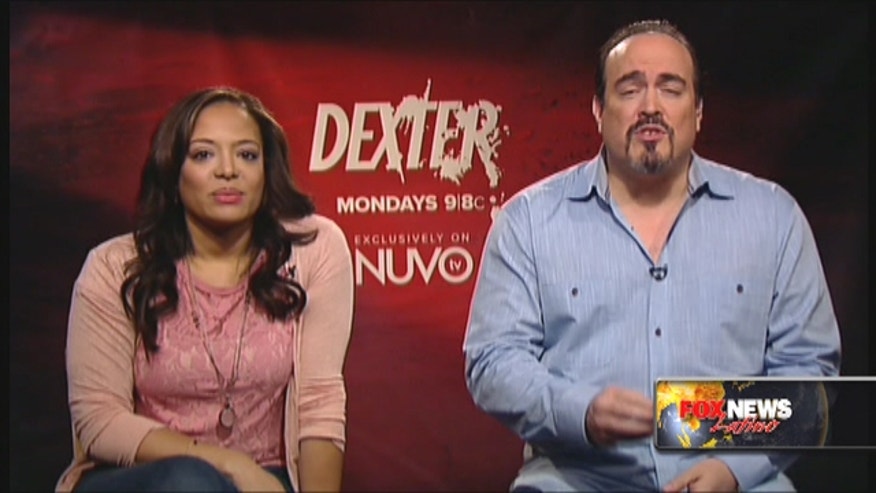 Showtime's homicidal thriller "Dexter" may have ended in couple of months ago, but fans of the show — and those who have never seen it — will have the opportunity to relive the horror and the drama on Jennifer Lopez's NUVOtv.
Starting Monday, Jan. 13, all eight seasons will be re-aired for people's viewing pleasure.
"It's great," David Zayas, who played Angel Batista in all eight seasons, told Fox News Latino. "It's great that it's on NUVOtv, which is a great station for English-speaking Latinos across the country."
The 51-year-old actor and his longtime friend and show co-star Lauren Velez, spoke in an interview about what it means for the show to get full rebroadcast just months after the season ended.
"It's great that people have access to the show and people who didn't get a chance to watch it (can now)," said Velez, 49. "It's wonderful to have a second life."
She continued: "I'm having people on the street saying, 'Isn't that coming on NUVO? That's cool. I am going to get to watch it,' and they are young Latinos."
The drama series, which aired between October 2006 through Sept. 2013, centers on Dexter Morgan, played by Michael C. Hall, a blood spatter pattern analyst for Miami police. The twist is that he also leads a secret life as a serial killer, hunting down criminals who have slipped through the cracks of justice system.
"We had the comfort and the luxury of coming in every day and working with the people we worked with," said Zayas, recalling working on the show for so many years. "And we knew even in our hiatus that we would come back and regroup with this family-feel… That is what I miss the most. It was wonderful to work every day and work with them."
Velez echoed her co-star's beliefs.
"I miss the dynamic between us," she said, referring to their characters playing husband and wife as well as her playing his boss. "I miss being married to David's character — that was a wonderful juicy bit that is rare."
Both actors could not be more excited for this next step for the show — especially that fans will be able to see all 96 episodes, one per week.
"I was interested from episode one til the last episode," Zayas said. "I loved the whole journey."
"Dexter" airs on NUVOtv at 9 p.m. EST on Mondays.
Follow us on twitter.com/foxnewslatino
Like us at facebook.com/foxnewslatino
Lucia I. Suarez Sang is a Reporter for FoxNews.com.
Follow her on Twitter @luciasuarezsang