The latest on the high-level U.N.
India's foreign minister says Pakistan continues to believe terrorist attacks will allow it to obtain territory it covets in Jammu and Kashmir.
Boko Haram leader taunts parents of kidnapped girls in new video
Longtime Boko Haram leader Abubakar Shekau appeared in a video denying military reports that he was killed last month, and mocking parents of the hundreds of Chibok schoolgirls kid...
Berlin police say a 43-year-old Norwegian tourist is in custody after biting off part of the ear of a man who tried to break up a fight between him and a dark-skinned German passen...
At the intersection, Mohammed al-Haj waited patiently for the "green man." It seemed a bit silly: No cars were coming, no policemen watching.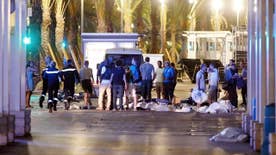 Two young women suspected of planning an attack in France were detained by police in the southern French city of Nice, a person familiar with the investigation said Sunday, the lat...
Suicide bomber kills 7 in Baghdad; Shiites targeted
A suicide bomber killed at least seven people who were setting up tents on Sunday ahead of a major Shiite religious observance next month, officials said.
Swiss voters were deciding Sunday whether to back a new law aimed at strengthening the ability of intelligence services to counter rapidly-evolving threats posed by spies, criminal...
The latest on the high-level U.N.
Syria's foreign minister says his country's belief in military victory is greater now because the army "is making great strides in its war against terrorism" with support from Russ...