Cowboys rescue hundreds of drowning horses and cattle from Harvey floods
By Tori Richards, ,
Published September 25, 2017
While the nation is riveted to Houston flood rescues via helicopter and power boat, horseback cowboys have been rescuing hundreds of drowning horses and cattle away from the fanfare of the television cameras.
Chance Ward and his son Rowdy, 17, have become internet sensations as a video showing the rescue of a penned-up horse neck-deep in water reached 10 million views since it was posted to his Facebook page on Monday.
"They say whatever you do, don't let your kids grow up to be cowboys," Ward joked as he shot footage of the event: Rowdy on horseback yanking open a closed gate and lassoing the skittish stallion behind it. "Somehow I let mine grow up to be cowboys, but I don't know if he's bred any other way. That's all he knows."
Once the flooding from Hurricane Harvey started on Sunday, Ward began traversing a 20-mile radius around his hometown of Cleveland, which is in rural Liberty County northeast of Houston. He has been posting videos of various rescues, which has garnered him a huge following with tens of thousands of views each. The fanfare has led to cowboys across Texas showing up with their horses to help in the rescue effort.
Meanwhile, residents could only watch while all the media and government attention has gone to Houston, leaving them to fend for themselves.
"Everyone is talking about Houston, Houston, Houston," Ward's sister, Kasey Mabe, told Fox News. "I know they are hurting, but we were hit really, really hard. Chance is one of the county cowboys, he is under contract to go out and rescue animals if they get up on the road and so we have been trying to help out. There is a group of them (on horseback) including my daughter. She is 15."
The work is treacherous as Ward and his posse navigate waters up to six feet high, sometimes swimming in on horseback with no idea of what could be under the water that might cause great injury to their animals.
While rescuing the stallion, Ward yelled at Rowdy to avoid a water hose ahead that could get tangled in the horses' legs with deadly consequences.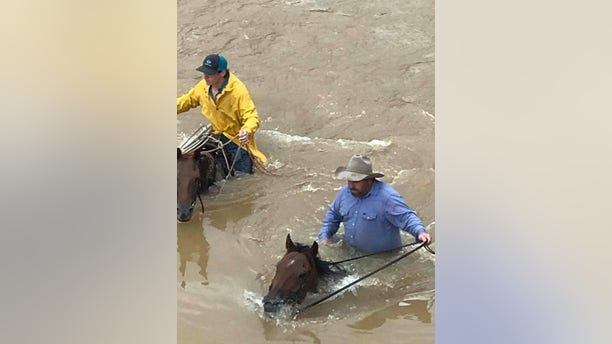 Other rescues have included 350 head of cattle who were in danger of drowning on a wide open plain. A video shows the cowboys herding them through the water and ultimately the animals had to cross eight pastures before they were safe, Mabe said.
Yet another video shows two bewildered-looking horses standing around a barn, neck deep in water. Ward and his team rescued four horses that day, but many more drowned there before he arrived. He was alerted to the situation through Facebook, where pleas for help have been constantly coming in, Mabe said.
"There is a lot of sad out of this storm, but I look at the positive," Ward said in the rescue video. "I have helped in numerous floods with livestock. We were able to swim in and save four of these horses today. One of the greatest feelings in the world is having my best partner by my side, my 17-year-old son."
Texans take pride in helping each other without expecting payment, something Ward talked about in his latest video Wednesday showing a long length of rope leading to a watery grove where a cow was supposedly tied to the other end.
"There ain't been a dollar paid and there won't be a dollar paid to none of this," Ward said. "This is literally what we do is (to) help others. We're all cowboys. We ain't ask for help from Peta and we sure as hell don't ask for help from the Humane Society. This is every day people coming out."
https://www.foxnews.com/us/cowboys-rescue-hundreds-of-drowning-horses-and-cattle-from-harvey-floods