Toddlers go wild with mom's self-tanner, make viral mess
By Janine Puhak, ,
Published June 18, 2018
Two tots in Scotland have recently gone viral for getting their summer glow on – and making a total mess – with one of their mom's self-tanner lotion.
On June 9, Billie Fotheringham took to Facebook to share hilarious footage of her son Kyle Duffield, 2, and his friend Leo Riddell, 3, and their beauty DIY gone haywire.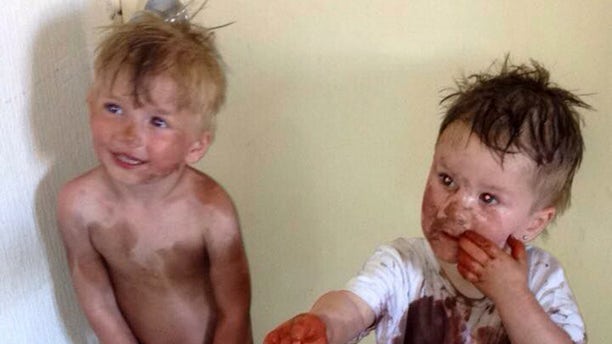 KIM KARDASHIAN'S BRAIDS CALLED OUT AS 'CULTURAL APPROPRIATION'
"So Kyle and Leo decided to get a hold of my FAKE TAN!! I cannot cope," she captioned, sharing a photo and video to the platform that has since been viewed over 3,000 times.
In the silly stunt, both boys are covered head to toe in orange and brown blotches of the bronzing lotion, during which Leo apparently stripped naked and Kyle destroyed a once-white T-shirt.
VETERAN CLAIMS HIS STOLEN FACEBOOK PHOTOS WERE USED TO CATFISH 30 WOMEN DURING DEPLOYMENT
Leo's mom, Shirley Goodsir, told the Daily Mail that Fotheringham turned her back on the mischievous boys for a moment before noticing they were "suspiciously silent" before finding them in a bedroom, post-tanning session.
"Billie walked in and screamed because she didn't know what it was to start with, until she found the empty tan bottle. The tan was all over the floor, over the covers and of course all over them.
FOLLOW US ON FACEBOOK FOR MORE FOX LIFESTYLE NEWS
"Then my son comes through with a perfectly tanned bum and says, 'Kyle tanned my a**," Goodsir said. "I couldn't even give him a row because it was just too funny."
https://www.foxnews.com/lifestyle/toddlers-go-wild-with-moms-self-tanner-make-viral-mess