German man calls police on 'very persistent' baby squirrel following him
By Alexandra Deabler, ,
Published August 12, 2018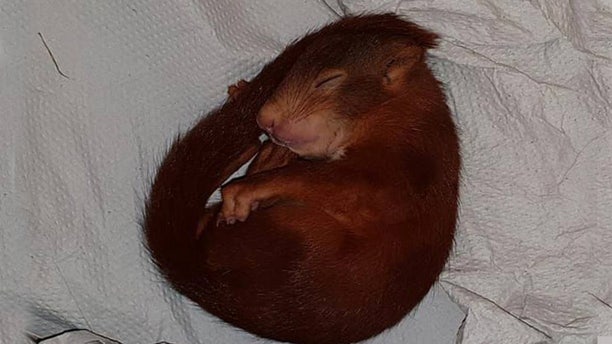 A German man called police after a baby squirrel would not stop following him around, officers said.
The distraught man called Karlsruhe emergency services on Thursday and claimed he was being chased down the street by the small rodent, The Guardian reported.
Police in the southeastern German town responded to the call and found the squirrel running after the unidentified man. However, soon after police arrived on the scene, the squirrel abruptly gave up its pursuit and laid down and fell asleep, the publication reported.
"The squirrel has fallen asleep in fright," the police write-up said.
GREEK CAT SANCTUARY HIRING CARETAKER TO LIVE ON ISLAND, SUPERVISE 55 CATS
After investigating the incident of rodent harassment, police officers figured the tiny animal had likely become separated from its mother and followed the man around in search of a new home.
"The man didn't know what to do and so he called the police. He was certainly feeling a bit threatened."
"It often happens that squirrels which have lost their mothers look for a replacement and then focus their efforts on one person," said Christina Krenz, a police spokeswoman, to The Guardian.
Krenz said, "The man didn't know what to do and so he called the police. He was certainly feeling a bit threatened," adding that squirrels can become "very persistent, not just running behind someone, but entirely fixated on them. It can be pretty scary."
Officers took the small suspect into police custody, and then eventually turned him over to an animal rescue center. Two other baby squirrels were reportedly also brought to the animal rescue center that day – though only one of them appeared to have had a run-in with the law.
FOLLOW US ON FACEBOOK FOR MORE FOX LIFESTYLE NEWS
According to the police write-up, though the squirrel was turned over, he will not be forgotten by officers anytime soon.
"A squirrel will be our new mascot," said the police write-up.
https://www.foxnews.com/lifestyle/german-man-calls-police-on-very-persistent-baby-squirrel-following-him