Waffle House in Georgia serving 'No Water Menu' after city water main breaks
By Michelle Gant, ,
Published March 08, 2018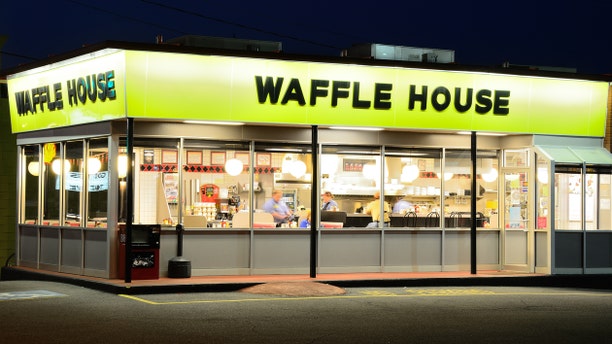 A Waffle House in Georgia isn't about to let a water shortage stop them from serving food.
A water main broke Wednesday morning in DeKalb County, leaving hospitals, restaurants, businesses and schools without water, including the local Waffle House.
While officials are working to restore service, the county issued a water boil advisory and shoppers rushed to the stores to stock up on bottled water, clearing the shelves by mid-day, according to The Atlanta Journal-Constitution.
MCDONALD'S FLIPS LOGO UPSIDE DOWN FOR INTERNATIONAL WOMEN'S DAY, BUT TWITTER USERS AREN'T LOVIN' IT
Instead of closing, Waffle House decided to adapt to the situation by offering 'No Water Menu.' "We are only able to serve a limited menu at this time," the revised menu reads. While the No Water Menu doesn't include any waffles, customers can still order quarter pound angus hamburger, grilled chicken sandwich, sausage biscuit and all beverages.
Atlanta-based radio host Mark Arum shared a photo of the menu on Twitter, and people had questions. A couple of people commented, asking how they serve beverages without water, which Waffle House replied saying they'll often bring in bottled water or other beverages.
Others were more concerned with issues of hygiene, noting that without water, employees aren't able to wash their hands.
But Waffle House seems determined to stay open, no matter how bad the situation is. In response to Arum's tweet, Waffle House wrote: "You gotta do what you gotta do to keep feeding folks..."
FOLLOW US ON FACEBOOK FOR MORE FOX LIFESTYLE NEWS
It's probably a good thing Waffle House is still open, because people will do whatever it takes to get their fix. In December, a South Carolina man was determined to satisfy his late-night Waffle House craving, despite the fact that no staffers were around to cook his meal. Instead of leaving, the man hopped behind the counter and cooked up his own double Texas bacon cheesesteak melt with extra pickles. He even returned the next day to pay for his food.
https://www.foxnews.com/food-drink/waffle-house-in-georgia-serving-no-water-menu-after-city-water-main-breaks