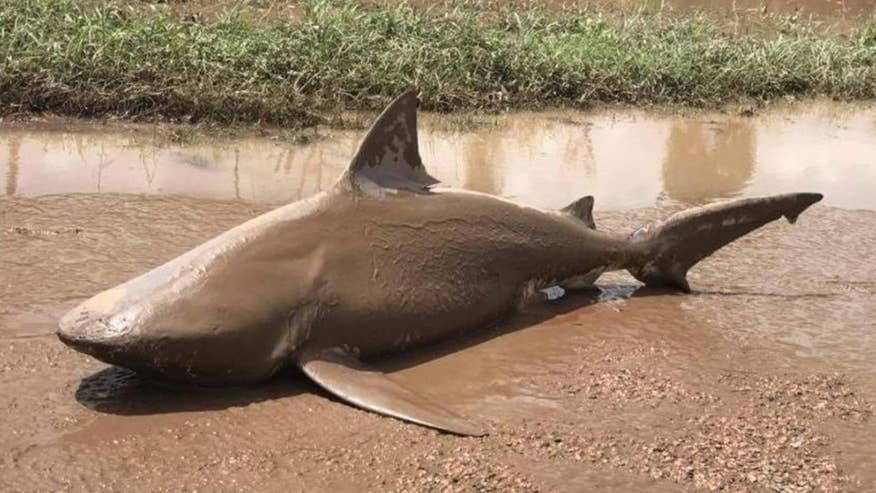 Locals in the north Queensland region of Burdekin, Australia, might have escaped the brunt of Cyclone Debbie. But one was not so lucky.
#Sharknado. Locals at #Ayr sadly discover another of the untold thousands of marine and land animals that were victims of #CycloneDebbie pic.twitter.com/tMf2WBomQH

— Marcus Middleton (@MMiddleton_10) March 30, 2017
WIN News Townsville journalist Philip Calder described his shock at finding the "heavy" metre-and-a-half bull shark when he was out reporting in Ayr, a town of Burdekin, covering the local flooding after the devastating cyclone.
LION CUB BORN AT DALLAS ZOO - FIRST TIME IN DECADES
The shark was found dead on a road that has been cut off by flooding. A community nearby, Rita Island, has been cut off by the flood waters and Mr Calder was on his way to cover the story when he spotted the shark.
Think it's safe to go back in the water? Think again! A bull shark washed up in Ayr. Stay out of floodwater. #TCDebbie #ifitsfloodedforgetit pic.twitter.com/DpP29Va1JG

— Qld Fire & Emergency (@QldFES) March 30, 2017
"He must've gotten caught in a torrent and confused, beached himself on the side of the road," Mr Calder told news.com.au.
"We were pretty amazed, we were turning up to shoot a flooding road, we weren't expecting to see wildlife as well."
Bull sharks are common in the area, according to Mr Calder, and many of them live in creeks and rivers close by to nearby communities.
The Burdekin River, located in North and Far North Queensland, is known to house bull sharks, turtles and barracudas.
Click for more from news.com.au