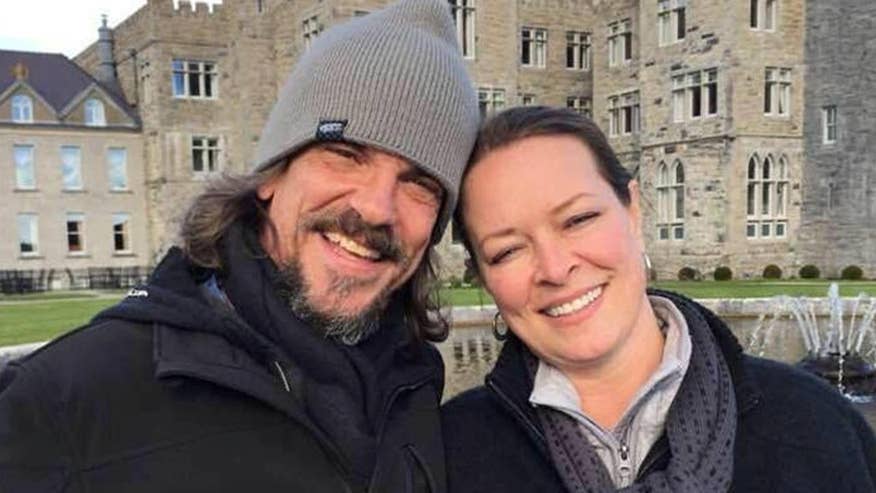 Sitting together the night before they were to give a Monday morning news conference, 11 relatives of an American couple attacked by an Islamic terrorist in London last week came to a surprising conclusion: They weren't angry.
Kurt Cochran, 52, was killed and Melissa Cochran severely injured when Khalid Masood went on a driving and stabbing rampage on Westminster Bridge on Wednesday. Kurt was one of Masood's four murder victims and Melissa one of the scores who were hurt. Yet the Utah couple's extended family chose to shift their focus from the tragedy to Kurt's legacy.
LONDON ATTACKER USED WHATSAPP, FIRM MUST HELP POLICE GET ACCESS
"It was unanimous that none of us harbor any ill-will or harsh feelings," said Sarah, Melissa's sister. "We love our brother, we love what he brought to the world and we feel like this situation is going to bring a lot of good things to the world. We'd like to focus on that."
Sarah had performed in a band that Kurt promoted, and one of the memories she clings to is the image of Kurt – clad in a "powder blue tuxedo from the 70s that he wore in high school" – playing guitar with the group at their last show.
Kurt Cochran's wider family pic.twitter.com/CnWZBuRQsp

— Danny Shaw (@DannyShawBBC) March 27, 2017
BOYFRIEND OF WOMAN WHO PLUNGED OFF BRIDGE REPORTEDLY PLANNED TO PROPOSE
"And it meant a lot to us, because he felt more comfortable behind the stage pulling the strings helping other people," Sarah said. "…It was so great to see him smiling on stage with us."
The Cochrans came to London on March 3 to celebrate their 25th wedding anniversary and were set to leave Britain on March 23. But the day before they were due to depart, Masood got behind the wheel of his SUV and began running down anyone he could get to on the Westminster Bridge. Masood was killed in the attack.
Melissa's condition has been improving and her other sister, Jenny, said the quick recovery is no surprise.
"She's always fun and feisty, strong willed – she's a fighter," Jenny said. "I don't know any other way she could be."
And Melissa, too, is said to be focusing less on vengeance and more on remembering Kurt.
"She's sad that her love was taken away from her," Jenny said, "but grateful the world will know him."