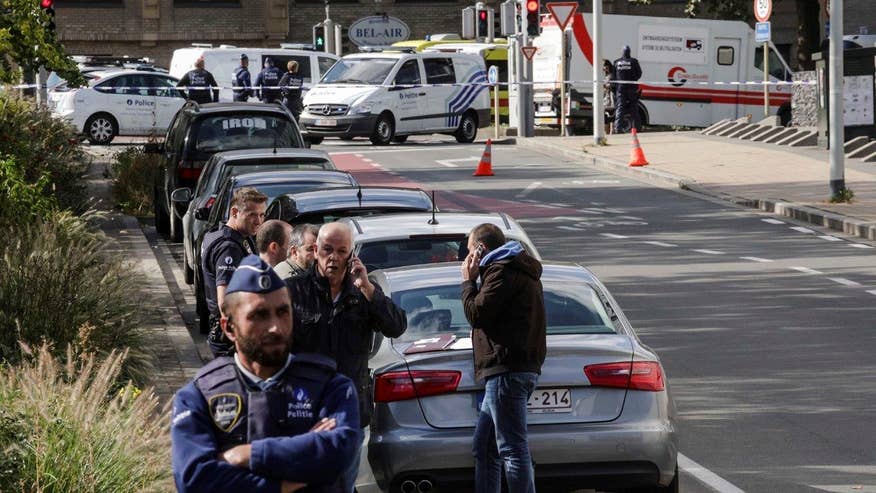 Two police officers were stabbed Wednesday by a knife-wielding man in Brussels in an incident classified as a "potential terrorist attack," prosecutors said.
The man allegedly stabbed one officer in the neck and the other in the abdomen in the city's heavily-Muslim Schaerbeek neighborhood on Wednesday and then fled the scene. Both officers are expected to survive, a statement from prosecutors said.
The assailant was stopped by a second group of police. He's accused of breaking the nose of one officer, whothen shot the man in the leg.
"The provisional results of the investigation indicate that it would be a potential terrorist attack," the statement said.
The alleged attacker was identified only as 43-year-old Hicham D., of Belgian nationality.

Federal prosecutor's spokesman Eric Van Der Sypt declined to provide details or explain why prosecutors think the attack was linked to terrorism.
Belgium has been on high alert since Islamic terrorists killed 32 people in coordinated suicide bombing attacks on the Brussels airport and subway on March 22.
In August, a machete-wielding man shouting "Allahu Akbar!" — Arabic for "God is Great!" — attacked and seriously wounded two policewomen in the southern Belgian city of Mons. The assailant was shot dead. The attack was later claimed by ISIS.
On Sept. 7, a man carrying a knife attacked two police officers in the Molenbeek area of Brussels, but the officers were wearing bulletproof vests and suffered only bruises, prosecutors said. The assailant said nothing during that attack and gave no indication of his motives.
The Associated Press contributed to this report.