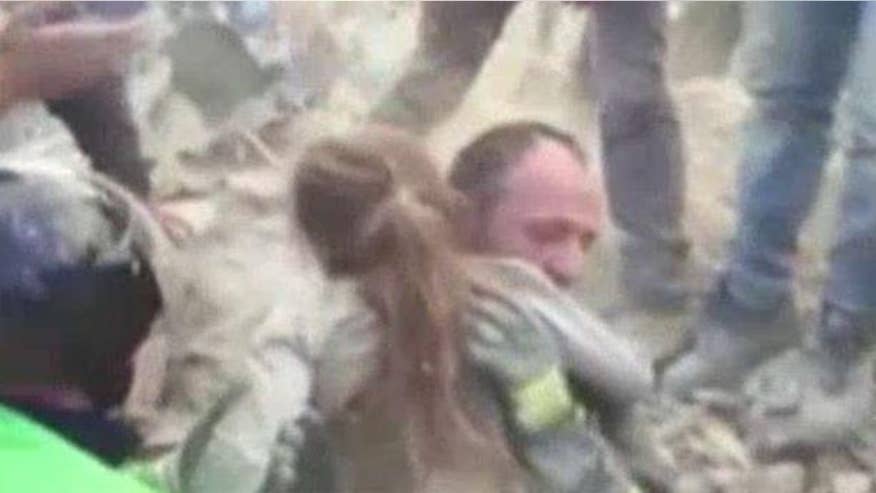 A 10-year-old girl has been rescued from the rubble of the Italian earthquake - after being trapped upside down for 17 hours.
A firefighter clutched her tightly to his chest after she was freed from the ruins of a building in the town of Pescara del Tronto.
Crowds had gathered round after one person spotted signs of life under the rubble, saying: "You can hear something under here. Quiet, quiet."
Footage shows her dust-covered legs poking out of the debris, with cheers breaking out as the pony-tailed youngster was eventually freed.
Jubilant rescuers shouted "she's alive" as she was carried away.
Firefighter Danilo Dionisi said: "The 10-year-old girl was just pulled out now from the rubble and she is being taken to the hospital and that is good news.
"As far as the rest is concerned, the images speak for themselves, you can see what the town looks like."
At least 247 people have been killed in central Italy following the 6.2-magnitude quake in the early hours of Wednesday.
The frantic search for survivors is continuing, but the mayor of the hardest-hit town - Amatrice - says he believes the death toll will rise.
Some of the survivors have described apocalyptic scenes "like Dante's Inferno" after the quake, with buildings razed to the ground and dust and gas filling the air.
The epicenter was northeast of Rome, near Norcia in Umbria, and sent tremors across the rural central spine of Italy.