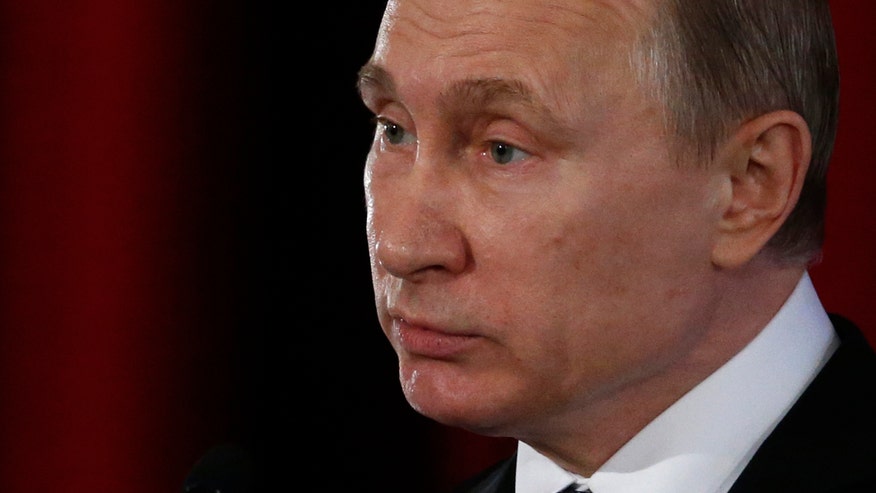 The European Union's foreign policy chief on Monday expressed cautious optimism about Syria's peace process, urging international and regional actors to build on the current, favorable conditions even as fighting raged between rival militant groups in southern Syria.
In Geneva, where ongoing proximity peace talks between the Syrian government and the opposition had adjourned over the weekend, U.N. envoy Staffan de Mistura was to meet with the two sides separately.
On a visit to Beirut, the EU's Federica Mogherini said recent developments -- including a cease-fire that has been largely holding across Syria since Feb. 27 and the delivery of aid to besieged areas -- reflect "positive" steps unseen in the previous five years of conflict.
Mogherini met with Lebanese Foreign Minister Gibran Bassil and Prime Minister Tammam Salam and discussed the issue of Syrian refugees and the attacks by the Islamic State group in Lebanon and in Paris last November. She also went to Lebanon's eastern Bekaa Valley to meet Syrian refugees who are among hundreds of thousands who have fled to Lebanon.
Lebanon, a country of 4.5 million people, has given refuge to more than 1 million Syrian refugees. She said that the EU has so far given Lebanon 1.5 billion euros ($1.68 billion) since the crisis began, adding that this "is a significant one" and will increase in the coming months and years.
"Today, we have something that not only last year but all the previous five years we did not have," she said about the peace process. "We have today conditions that were never in place before."
She stressed that Syrians and their international and regional backers have to build on the positive steps.
"Obviously, (it's) something fragile and we all have to focus very much on protecting the steps that have been taken, making sure that they consolidate and that they also go far," Mogherini said.
Later, visiting a refugee camp in the eastern Lebanese town of Bar Elias, Mogherini said the priority is to end the war so that refugees can return home.
"Not because of the difficulties of welcoming or protecting or guaranteeing education or jobs for the Syrian refugees, but because they deserve their life back, they deserve to go home. As they just told me, `We want to go home."'
Asked to comment on the European Union's deal to send thousands of migrants back to Turkey, she said that "priority number one is to bring them back to Syria" and achieve a diplomatic solution. "Then we can talk about all the rest."
After returning from the Bekaa Valley, Mogherini said that "Any solution for Syria cannot be anything else but a united Syria. United, secular, pluralistic Syria. This is what we are working on, so no partition, no divisions but a united country in Syria. There is no other option on the table."
In Syria, meanwhile, a militant faction loyal to the Islamic State group -- the Yarmouk Martyrs Brigade -- attacked and captured the southern Syrian village of Tseel after clashes with rival groups, including al-Qaida's branch in Syria, known as the Nusra Front.
Activists also said that intense clashes continued near the historic central town of Palmyra that is held by the Islamic State group. The Britain-based Syrian Observatory for Human Rights said 26 Syrian commandos were killed in clashes with IS near Palmyra.
In Geneva, the head of Syria's government delegation at peace talks said the indirect negotiations are positive but so far no progress has been made in this round of talks.
Bashar Ja'afari, Syria's U.N. ambassador, said a week and a half has been "wasted" waiting for a response from the other side to a document containing "fundamental principles" for negotiations that his team submitted to the U.N.'s Syria envoy last week.
The document focuses on the importance of fighting terrorism in Syria before anything else. "We did not get any response from the other side," Ja'afari told reporters in Geneva Monday after meeting with the U.N. envoy, Staffan de Mistura.
He added that the opposition is procrastinating and not engaging in serious negotiations.
Also Monday, Syrian state TV showed President Bashar Assad hosting wounded Syrian soldiers in a reception hall with his wife, Asmaa. The war has killed more than 250,000 people and displaced half the country's prewar population of 23 million.
Elsewhere, the Cairo-based Arab League rejected last week's declaration by Syrian Kurds of a de-facto federal region in northern Syria. The league's deputy chief, Ahmed bin Helli, said Monday that calls for federalization could threaten Syria's unity.
On Thursday, a meeting of some 200 Syrian Kurdish officials declared they were establishing a federal region, insisting they don't seek secession.
Kurdish fighters are among the most effective forces battling the Islamic State group and are backed militarily by the United States. A long oppressed minority, the Kurds took advantage of the chaos of the war to advance their goals of autonomy. After Assad's troops withdrew from Kurdish areas to focus elsewhere in Syria, they declared their own civil administration in 2013.