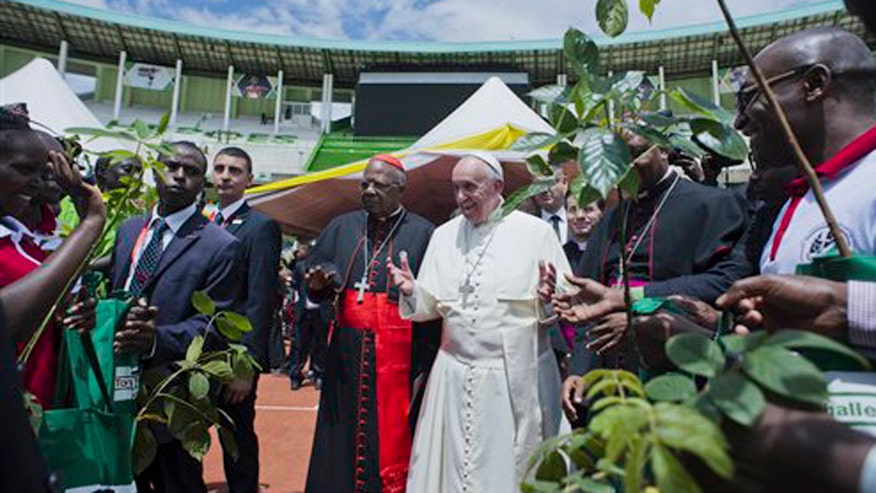 Associated Press – Pope Francis left Kenya this morning bound for Uganda, the second leg of his tour of three nations on his first visit of Africa.
At the Jomo Kenyatta International airport in Nairobi, Kenya, he was welcomed by traditional dancers, some in Maasai dresses, choirs and children waving the Vatican flag.
President Uhuru Kenyatta and other officials bid farewell to the pope, who arrived in Nairobi on Wednesday.
Hundreds of people lined the roads leading to the airport to wave goodbye to Francis.
During his stay in Kenya, he spoke out about the environment, corruption, human rights and poverty — issues that are close to his heart.
On Friday, he took aim at the injustice of land grabs by Kenya's powerful and wealthy individuals, acts that government probes have identified as a major source of conflict and ethnic tension in the country.
In a speech on poverty at a church in the Kangemi slum of Nairobi, Francis criticized "private developers" who he accused of hoarding land and even attempting to take playgrounds away from schools.
Mention of playgrounds likely was a reference to an incident in January when primary school kids at the Langata Road Primary School were tear gassed by police during a demonstration over the takeover of their playground.
The students were in the front lines of demonstrators pulling down a wall around the playground that had been erected by a private developer. After an international outcry, the Kenyan government declared the playground the property of the school.
Illegal land grabs are a serious problem in Kenya and are believed to be fueled by the bribe-taking culture endemic in East Africa's largest economy.
A 2008 government commission looking into violence after a flawed presidential election in 2007 found historical injustices such as unequal land distribution as partly to blame for the violence. More than 1,000 people died and 600,000 were evicted from their homes during the clashes.
Also, a 2013 Truth Justice and Reconciliation report on historical injustices in Kenya after it gained its independence in 1963 found grievances over land were the single most important driver of conflicts and ethnic tension in Kenya.
President Kenyatta's family members — especially his father, founding President Jomo Kenyatta — were named in the report as presiding over a government responsible for numerous human rights violations and illegal allocations of land.
Like us on Facebook
Follow us on Twitter & Instagram