An American woman lounging at a pool near El Salvador's Pacific Coast died in a freak accident Friday evening when a massive wave swept her into the ocean.
Jessica Paikarovski, 33, a New Jersey photographer and burlesque artist, was sitting near a pool with a friend, Francisco León, according to the Salvadoran newspaper, La Prensa Grafica, at a private beach near La Libertad, when they were both caught off guard by a massive wave.
"The pool relied on ocean water to fill it up," Paikarovski's sister, Ann, told NJ.com. "A wave came over them and sucked them under."
"My sister, being 90 pounds soaking wet, didn't make it," she added.
The incident occurred at about 6 p.m. local time. León suffered some broken bones but survived; at 8 p.m., the Salvadoran lifeguards found Paikarovski's body, and the country's attorney general's office (FGR in its Spanish acronym) tweeted about the discovery the following day.
"The body has been sent to the [local medical examiner's office] for an autopsy to determine the cause of death," it was announced.
FGR identifica a norteamericana ahogada ayer en Playa El Majahual, La Libertad, como Jessica Theresa Paikarovski, 33 años. (1)

— FGR (@PrensaFgr) October 17, 2015
El cuerpo ha sido enviado a IML Santa Tecla, para determinar por autopsia la causa de muerte. (2)

— FGR (@PrensaFgr) October 17, 2015
According to Paikarovski's sister, Jessica had traveled extensively but this was her first trip to Central America. She was traveling with friends who were members of a ska band named Inspecter 7, in which León plays saxophone.
Paikarovski, who went by the stage name of Jess Distress, identified herself on her two Facebook pages as the "evil mastermind" at Brunswick Basement Burlesque in New Brunswick, N.J.
She posted on her Facebook page the day before her death, announcing her return -- prematurely -- to the U.S.
"October 21st, NYC," she wrote. "I'm baaaccckkk, and it's my [White Elephant Burlesque Society] debut."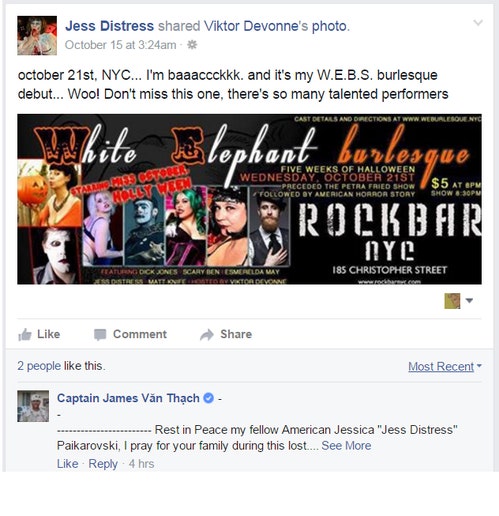 According to NJ.com, Paikarovski went to high school in New Jersey and attended Middlesex County College as well as a performing arts school in New York City.
The Daily News reported that she started a fine arts photography and graphic design company in 1998, and in 2013 co-founded Brunswick Basement Burlesque with a fellow performer who goes by Blondie.
On the show's Facebook page, Blondie posted a heartfelt tribute Monday.
"Jess is no longer with us," it read, "but my first thought after hearing of her passing was that the show must go on, because she would kill me if I didn't keep going and trying."
Blondie went on, "I love Jess with all my heart. She was my partner in crime and bad ideas."
Vanessa Kopec, a friend of Paikarovski's, described her in a Facebook post as a free spirit.
"Although petite, she was one of the toughest girls I will ever know," Kopec wrote, according to NJ.com. "She did what she wanted and wouldn't take no for an answer. She lived her short life to the fullest and traveled the world and experienced more than most people did in a lifetime."
Like us on Facebook
Follow us on Twitter & Instagram