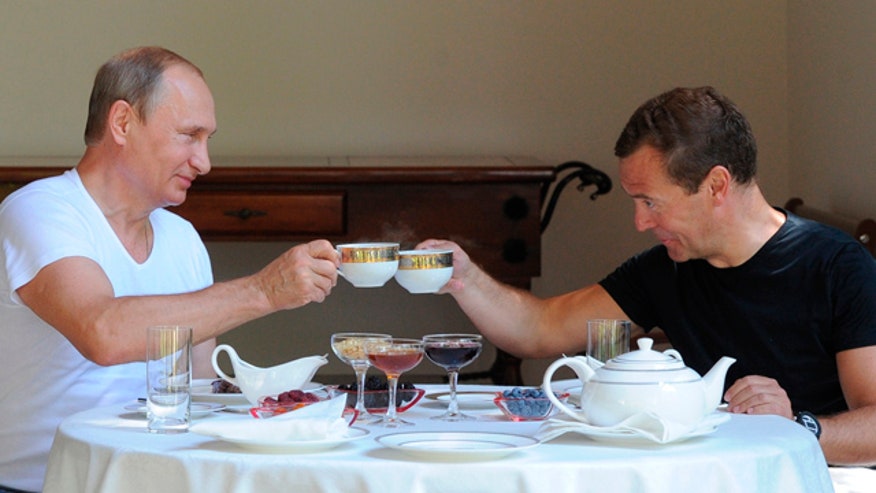 When he's not trying to create a new Iron Curtain, Russian President Vladimir Putin is apparently busy just pumping iron.
In a series of photographs released by the Office of the President of Russia, the 62-year-old Putin is pictured in a lavish forest mancave engaging in numerous exercises with wingman Prime Minister Dmitry Medvedev, 49. In a pair of photos that could be right out of a "Jersey Shore" casting call, the two are seen engaging in typical "bro" activities: lifting weights, grilling meat – and sharing tea.
"How does one control weight? By not overeating," Putin told ABC News in January 2014. "How does one stay in shape? One plays sports. There are no magic pills here."
The propaganda photos are the latest in a series of publicity shots that have shown Putin, an ex-KGB agent, in a variety of macho settings. Previous releases have pictured a bare-chested Putin riding a horse, shooting a tiger and flying a jet.
Putin is wearing gloves designed to give him a better grip and prevent calluses while working out, but otherwise is dressed in a simple white t-shirt and sweatpants. Vlad's get-up is a far cry from the elaborate sweatsuit President Barack Obama dressed in while lifting some light free weights in a covertly taped gym session at a hotel in 2014.
"I spend a little time every day to play sports," Putin said in the 2014 interview. "Last night, I was skiing here until 1:30 in the morning. I hit the gym this morning. I swim almost every day, a thousand meters."
Putin looks relaxed and doesn't appear to break a sweat on either machine. Medvedev, while ostensibly working out as well, is pictured mostly as a mere bystander, watching Putin pull and curl. When he does get a turn on a machine, it's one smaller than Putin's, with the President looking over his shoulder.
The pics were taken at Putin's summer residence near Sochi, the site of the 2014 Winter Olympics.
"You know," Putin said in 2014, "there's a Russian saying: 'Grain by grain, a hen fills her belly.'"